The final step of setting up an Outbound Text is defining the message itself, scheduling basics like selecting the day, and who you would like to reach with the text.
1. To schedule a text you will go to the Connect tab and choose the Schedule drop-down. From there decide on:
Message. What would you like to communicate to your church family?
Date and Time. The day along with when you would like the text to be delivered
Tag. Targeting a specific tag you have defined to segment the text. Want the message to go out to everyone on the Profile page? Don't select a targeted tag in this instance.
***Using URLs within your outbound text messages is supported. Our team recommends using a url shortening service like bitly to shorten your URL. Shortening URLs enhances your member experience and helps your message stay within the character limit of 130.
2. Next, toggle on Outbound Text and a breakdown of the message will display: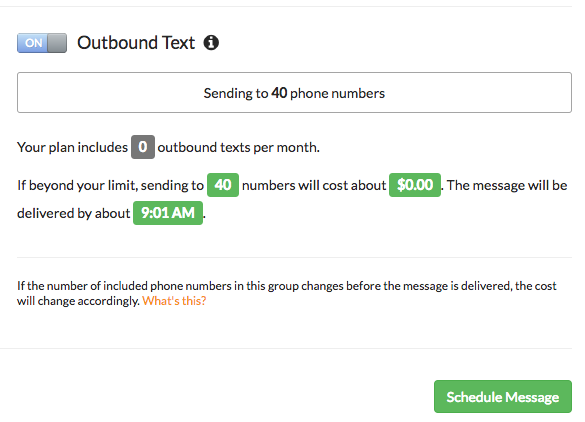 Select

to confirm the text.
Under

and Activity this page will serve as a communication hub where you can view what message have gone out, what's scheduled, and even delete messages from this page.
Still have questions? Feel free to shoot us a note at Support@aware3.com - happy to help!