Forms can do so many things, from event registrations and information requests, to collecting payments for tickets and other items for sale. Forms help streamline the process of collecting information, making communication and event management easy for you and members of your community.
Examples & Inspiration
Whether you are a church or school, we have included some examples for inspiration below! 
Churches:
Create a prayer request form 
Create a connection card form
Create a volunteer interest form
Create a retreat registration form
Collect payments for books
Collect payments for special events
Schools:
Collect payments for fundraising events
Collect payments for books, t-shirts, uniforms, or other items 
Create a registration form
Create a contact us form 
Create a school application form
Create a lunch payment form
Create a prospective student/family interest form
Getting Started 
To create a form, simply log in to your management portal and select the Forms tab at the top of the screen. Once you have selected the Forms tab, enter the title of your new form in the "Create New Form" field and select "Create."
After you have created your form, you will be able to customize it by selecting different fields on the left side of your screen. Some options are "read only" such as Heading, Spacer and Paragraphs. These are great fields to use when adding a title or description to your form. Fields such as Text Box, Text Area and Dropdown allow different ways to gather information.
Once you have created your form, don't forget to click save at the top of your screen.
Payments 
Add payments to smart forms to take care of things like event registrations, tickets, or other items for sale.
Select a fund that will be associated with the form payment.
Minimum. The number of event tickets, t-shirts, books, etc. you would like to require per submission. This quantity can be set to zero to make the payment optional. 
Maximum. Want to place a cap on how many payments are made in a single form? Place a max to make this happen.  
Credit, debit, and ACH payments are accepted on forms. Donors simply toggle between the Card and Bank Account tabs to select a payment method.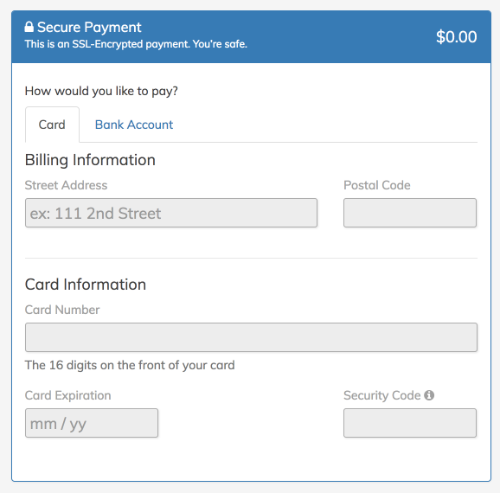 Set Notifications
For more urgent request where you wanted to be notified as soon as someone submits a form, you can set notifications by email and/or text.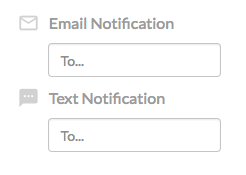 Adding Smart Forms to Your App
If you have a mobile app, you can add forms to the app. Once a form is created under the Forms tab inside the management portal, select the 

 to save the web address. From there, you may either copy into a single Link feature to open directly or copy into a Link(s) feature to provide a list of forms to pick and choose from. The link to a form can also be copied and shared across the web--on your website, social media, etc. 
Enabling and Disabling Forms

When you no longer want a form to be active, you may toggle off the 

 button to 

 and it will no longer be viewable online or in-app.
No longer need a form and the responses? Disable the form and you will see the option to click 

 .
Form-Response Indicators
On the Forms tab, you can see a summary off all your forms. You will see the number of responses and the date of the last response.

Share, View, Edit & Export
Under the Forms tab, you can also copy the link to the form, view the form in your browser, make edits to the form, and export the form responses.

Share. Select  to grab the link to include in-app, your website, and via social. 
View. The  button will display a form preview as it will appear in your app and online.
Edit. Need to make changes? Pick   to adjust fields and copy. 
Export. View form results by clicking .