Text Engagement FAQs
What is included in the Text Engagement feature?
Text Engagement includes Outbound Text, Text-to-Act, and Welcome Concierge.
How many outbound texts are included in my plan?
The standard Text Engagement plan includes 1,000 free text messages a month. Once those 1,000 free texts have been used up for the month, you will be charged $0.03 per text sent. Go to Messaging > Schedule A Message in your portal and toggle on Outbound Text for a quick overview of the texts included in your plan and how much it will cost if you go over the limit.

How many text-to-act keywords are included in my plan?
Text-to-act includes unlimited text keywords!
If I send a text to 10 people, does that count as 1 text from our bucket of 1,000 free texts?
No, when you send a text to 10 people (10 different phone numbers) this counts as 10 texts subtracted from your bucket of 1,000 free texts.
What if I am going to be sending more than 1,000 outbound texts each month?
Send us a note at support@aware3.com and let us know if you need to add additional texts to your plan! Our team will work with you to create a custom text plan to meet your needs.
Do I need to have an aware3 app to use broadcast text?
No, the service works great standalone. That said, having a paired aware3 app to work in conjunction with your mobile engagement and giving drives powerful results.
How are the totals calculated on the Schedule page?
The text message summary section will show you several pieces of information:
The total number of outbound texts included every month with your plan.
The count of unique telephone numbers to where your message will be delivered.
The approximate cost of delivery. This number is approximate because the total number of telephone numbers could be different from the time of scheduling to the time of delivery (e.g., more members are added to the system after the message is scheduled).
The approximate delivery completion time for the message. Sending text messages is slower than push messages; the message will flow out as quickly as possible.
How do I opt out of text messages?
You may opt out of text messages at any time by texting "STOP" in the text message thread. During any initial outbound text message sent from the aware3 system (including direct outbound text, text-to-act responses, text-to-give interactions, verification texts, and text receipts), the first text message sent will have the copy "Reply STOP to stop receiving texts" appended to the message body, which informs the recipient that they have the option to opt-out of future text messages.
Need some inspiration?
Below you'll see a few screenshots of real life outbound text messages that have been sent by other churches for inspiration!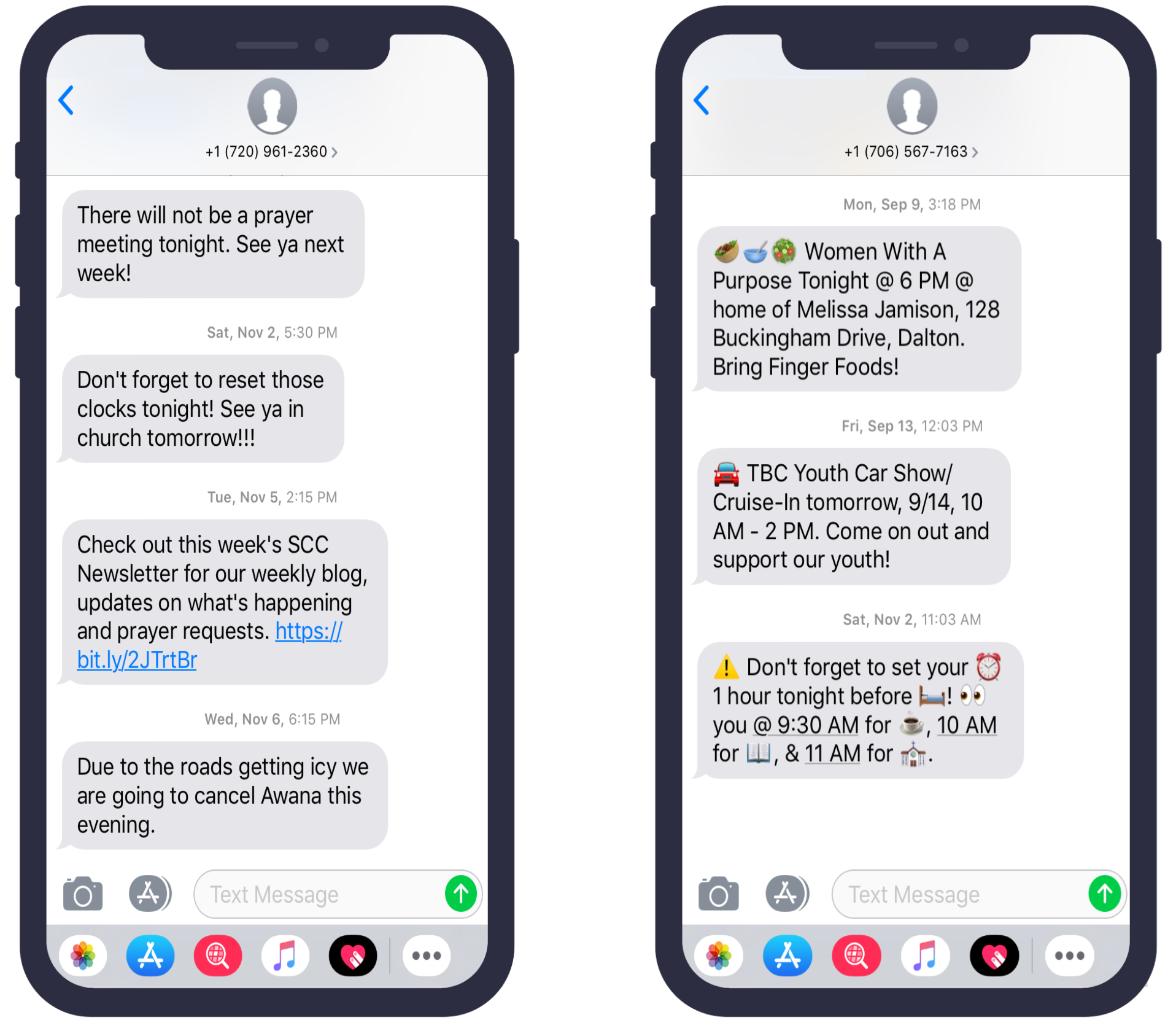 If you have any questions or need help, send us a note at support@aware3.com!