Tag-targeted, content-targeted, and geo-targeted push messages provide ways to customize your messages and audience.
To schedule a push message, begin by navigating to the 'Connect' tab and 'Schedule' dropdown.

Plug in the message you would like to send, then select a Delivery Date and Delivery Time.
To send to everyone, don't select a tag under the 'Tag' dropdown. To send a tag-targeted push, select a tag in the dropdown.
Creating Tags
Go to the 'People' 

tab and select 'Tags' from the dropdown. Click the field to the right, type the name of the tag, and hit 'Add' 

to save your changes.

Tying People to Tags
Go to 'People' 

tab and choose 'Profiles' from the menu. Boxes will appear beside each user and you'll simply check the box on the left.

To add them to a tag in the upper left-hand corner, click the 'Tag' 

button: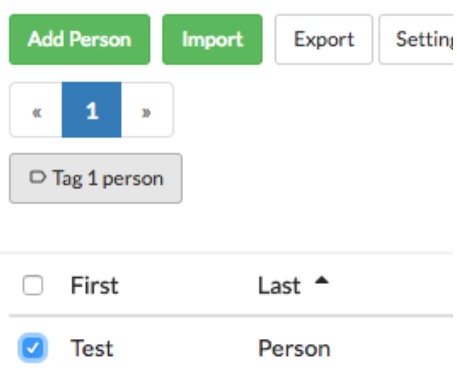 4. A pop up will appear displaying all the tags you've created from step 1 and you will select those you would like them to be a part of. The label will  turn dark blue indicating the person is tagged:

Use content-targeted push messages to direct users to a specific feature within your app. A content-targeted message is helpful when you want to call attention to a single feature and allow users to access it with a single click.
Select the App Push toggle 'On.'

Under 'Feature,' select the feature you want the push message to open up to. 'Message Only' will link to your App home page, while selecting a specific feature will open up to that specific feature when the user clicks the link.

Lastly, click 'Schedule Message.'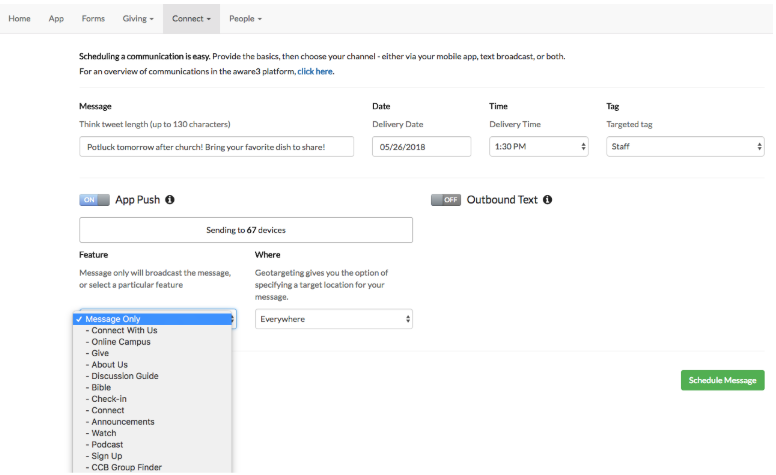 Geo-targeted push messages allow you to reach people based on their physical location.
Selecting 'Everywhere' will send the push message regardless of physical location. Use 'Everywhere' to communicate about registrations, service opportunities, and when you need to get the word out fast.

'Geo-targeted' will allow you to drop a pin on a specific location, which will send the message to users when they enter that location radius. Use geo-targeted messages for a simple welcome or for encouraging people to check in when they arrive at the church location.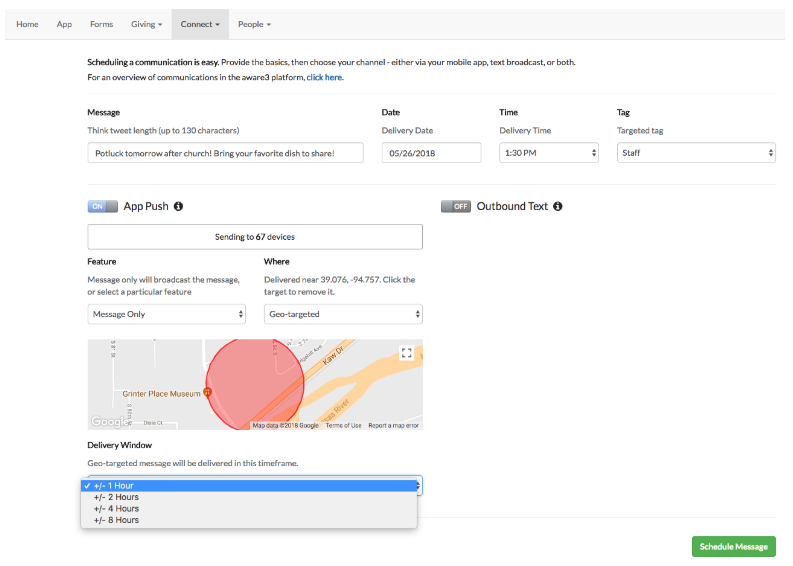 Select Geo-targeted from the "Where" dropdown.

Drop a pin on the map to determine the radius where the message will be sent.

Select the delivery window when you'd like the push to be sent. For instance, if the message is going out at 9:00 am, selecting +/- 1 hour delivery window will send the message between 8:00 am and 10:00 am.
Messages can be managed and canceled under 'Connect' > 'Activity.'