Forms gather prayer requests, event registration, and everything in between. 
With aware3 Smart Forms, you can capture this information and even take payments from your church mobile app and online spaces.
Adding Smart Forms to Your Church App
Once a form is created under the Forms tab inside the aware3 portal, select the 

 to save the web address. From there, you may either copy into a single Link feature to open directly or copy into a Link(s) feature to provide a list of forms to pick and choose from. 
Enabling and Disabling Forms

When you no longer want a form to be active, you may toggle off the 

 button to 

 and it will no longer be viewable online or in-app.
No longer need a form and the responses? Disable the form and you will see the option to click 

 .
Form-Response Indicators

See how many people have responded and when the most recent were received prior to pulling an export.
Share, View, Edit & Export

Share. Select  to grab the link to include in-app, your website, and via social. 
View. The  button will display a form preview as it will appear in your app and online.
Edit. Need to make changes? Pick   to adjust fields and copy. 
Export. View form results by clicking .
Set Notifications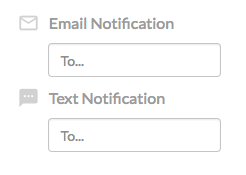 For more urgent request where you wanted to be notified as soon as someone submits a form, under the Edit screen you may set notifications by email and/or text.
Payments 
Add payments to smart forms to take care of registration and fees at once. 

Minimum. The number of event tickets, t-shirts, books, etc. you would like to require per submission. This quantity can be set to zero to make the payment optional. 
Maximum. Want to place a cap on how many payments are made in a single form? Place a max to make this happen.