Every day, communities rely on donor generosity to make a greater impact in the world. Recurring gifts play an important role in planning and your overall revenue strategy.
Pledges take recurring gifts a step further, allowing members of your community to commit to a planned set of gifts. You might be running a special fundraising event where you want to ask for specific sponsorship levels - this is where you could use your custom pledge links. This article walks through the pledge setup interface as well as the end user experience.
Benefits of Pledges
When people pledge a certain amount of money, it is a sign of dedicated commitment to your organization. Setting up preselected fields streamlines the process and can increase the likelihood that people will select that amount and frequency for their gift. Win-win! A pledge also allows your organization to make more accurate budgeting predictions, since pledges create a reliable and steady stream of income.
Customizing Your Pledge Link
You can customize the pledge interface within your admin portal. Set up pledge amount choices, fund, and fields like frequency and number of years that will appear as 'default' during the pledge process. To customize your pledge link, log in to your aware3 admin portal and select Dashboard > Giving.

Select View your giving-related links to view your web giving link, pledge link, pledge link generator, and text-to-give number (if applicable).
Next, select Pledge Link Generator.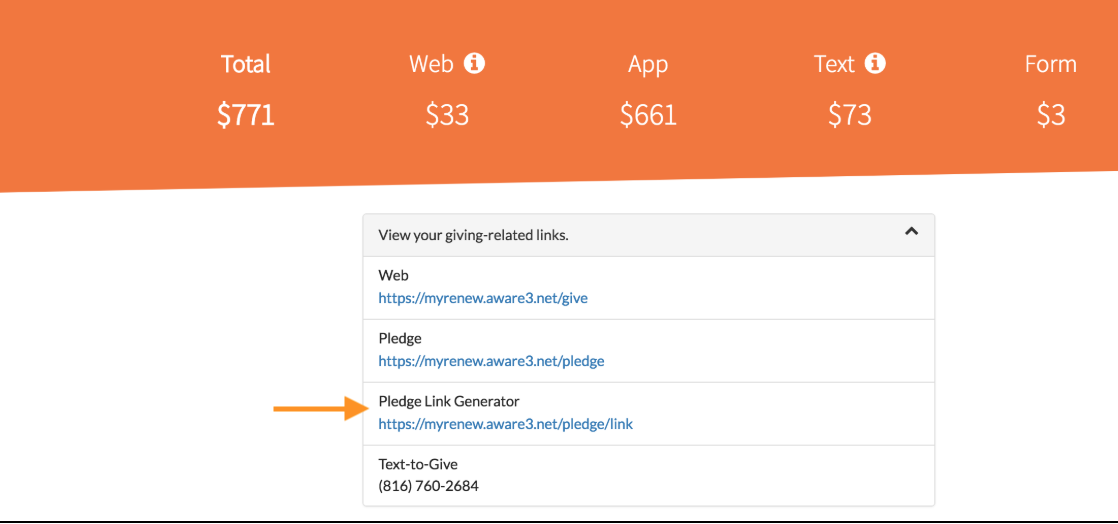 Before they are customized, all pledge options and the pre-selected amount will default to $0. Type the pledge amount options and the pre-selected amount.
The preselected amount is the amount that is highlighted by default when the donor goes to the pledge page, but it can be changed by the donor if they select a different pledge amount.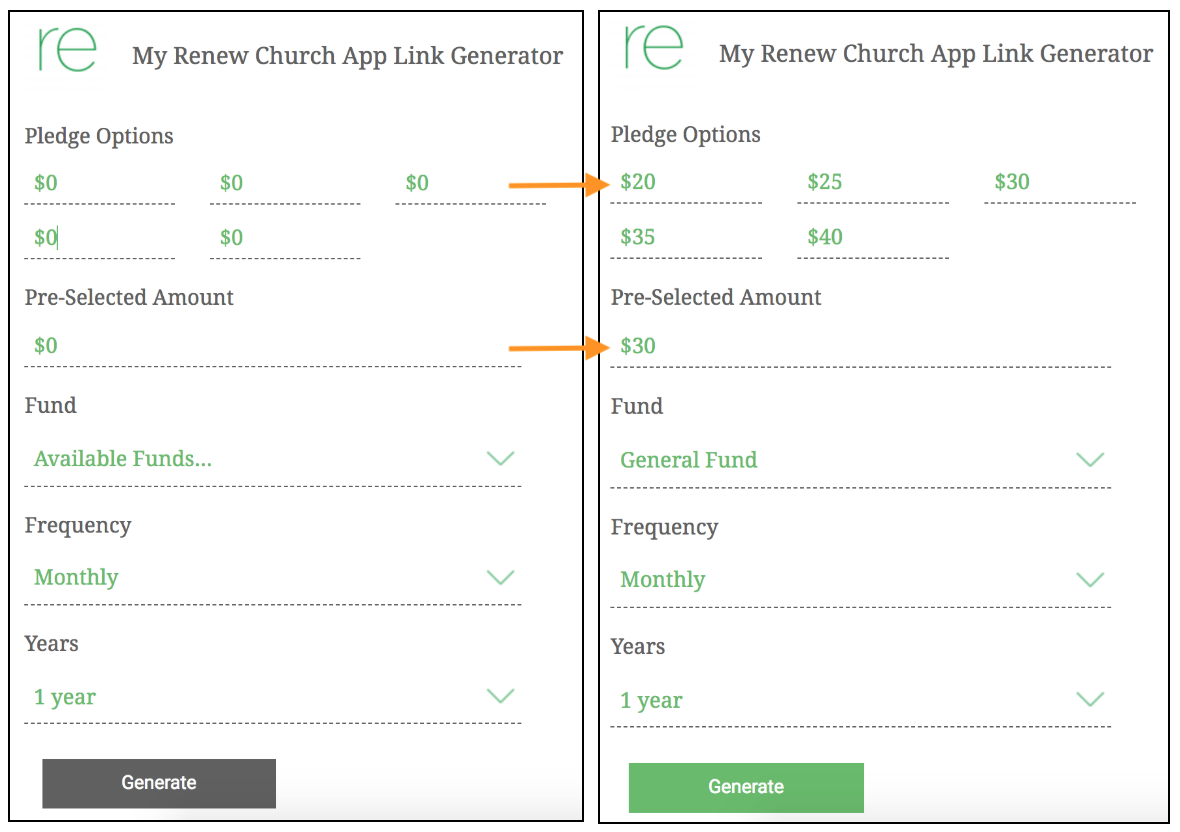 After entering the pledge amounts and pre-selected amount, you'll have the option to select the following:
Fund. The list will pull from your available funds.
Frequency. How frequently the gift will process. (To request more or less frequency options, please contact support@aware3.com.)

Weekly
Bi-weekly
Monthly
Yearly

Years. How many years the gift will continue to run before automatically stopping.

1 year
2 years
3 years
4 years
5 years
Indefinitely
After you have filled in or selected a default for all of the fields, click Generate to create your custom pledge page link. Don't forget to save your generated link in a safe place as it will not automatically save for you!
Viewing and Sharing Your Unique Pledge Link and Standard Pledge Link
After generating your pledge page link, you'll see an option to copy the unique URL to your clipboard. Once the page is copied, you can share it with a Link feature inside your app, on your website, or social media.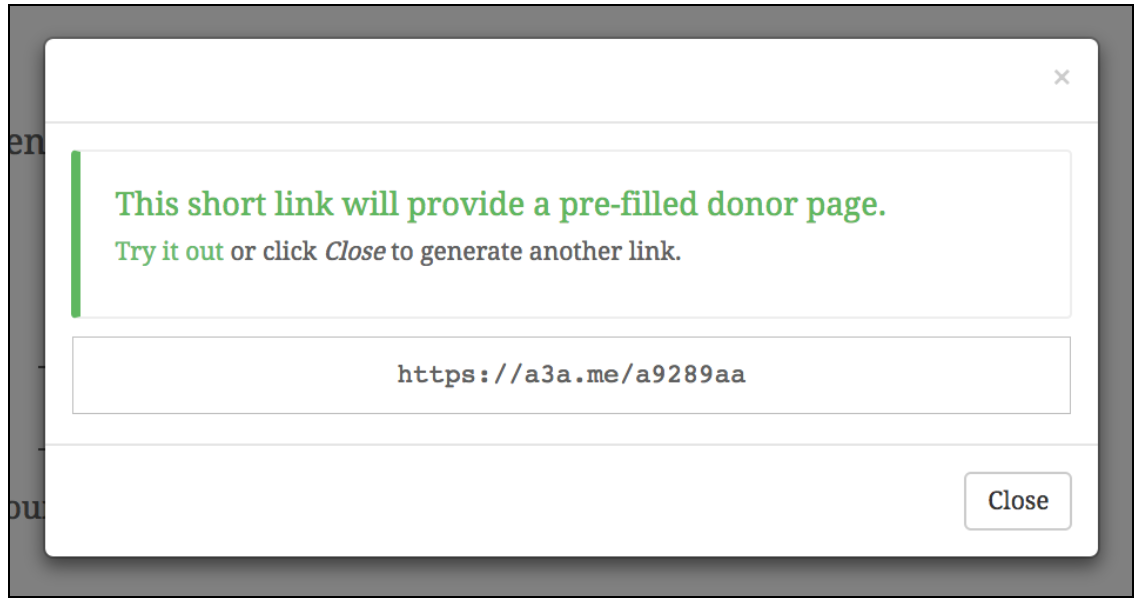 Dashboard > Giving page and select the 'Pledge' link (systemwide default page).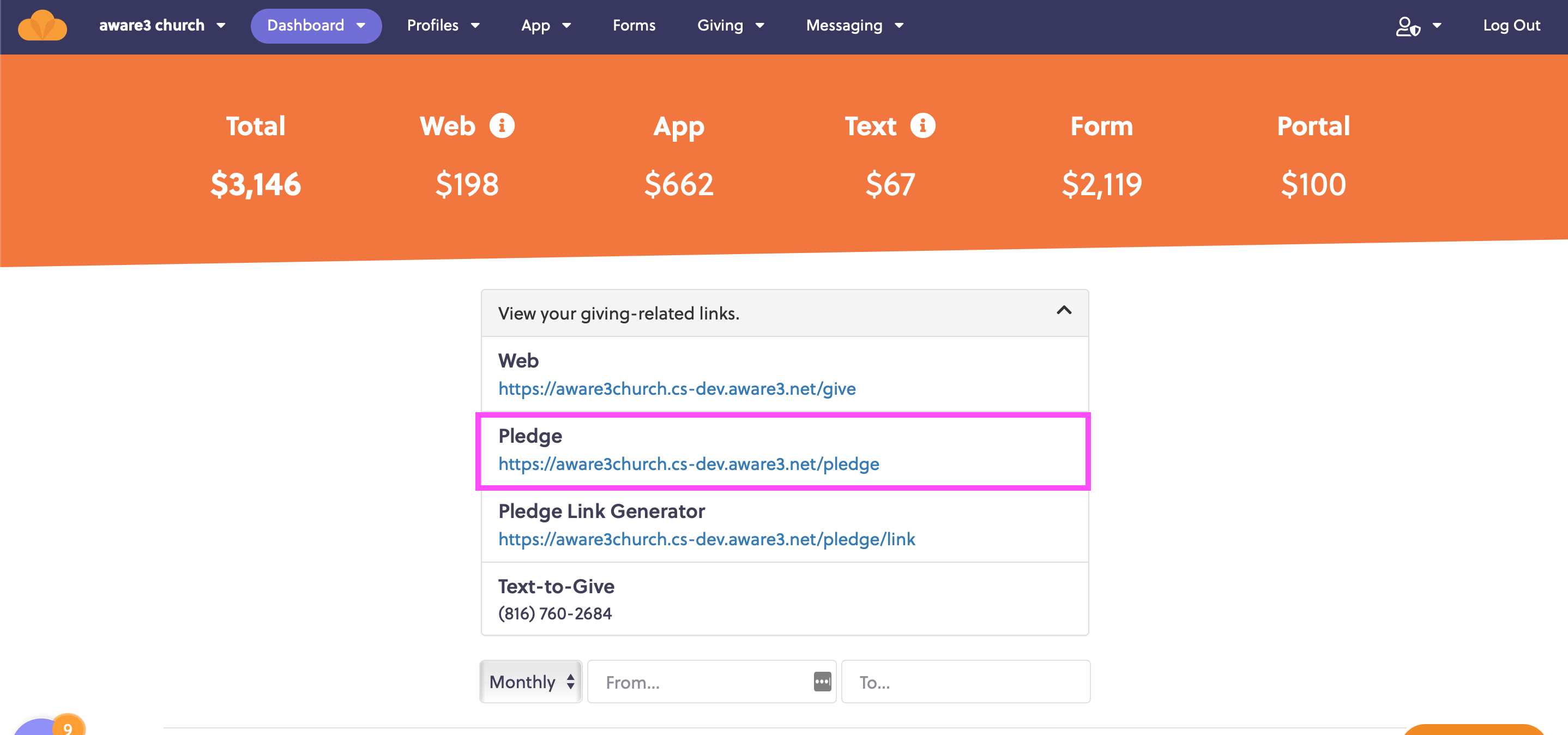 End User Pledge Experience
In the example below, you can see the pre-populated fields of $30, monthly, 1 year, and General Fund. Default fields make the process simple for the donor, and increase the likelihood that they will donate the already-selected amount.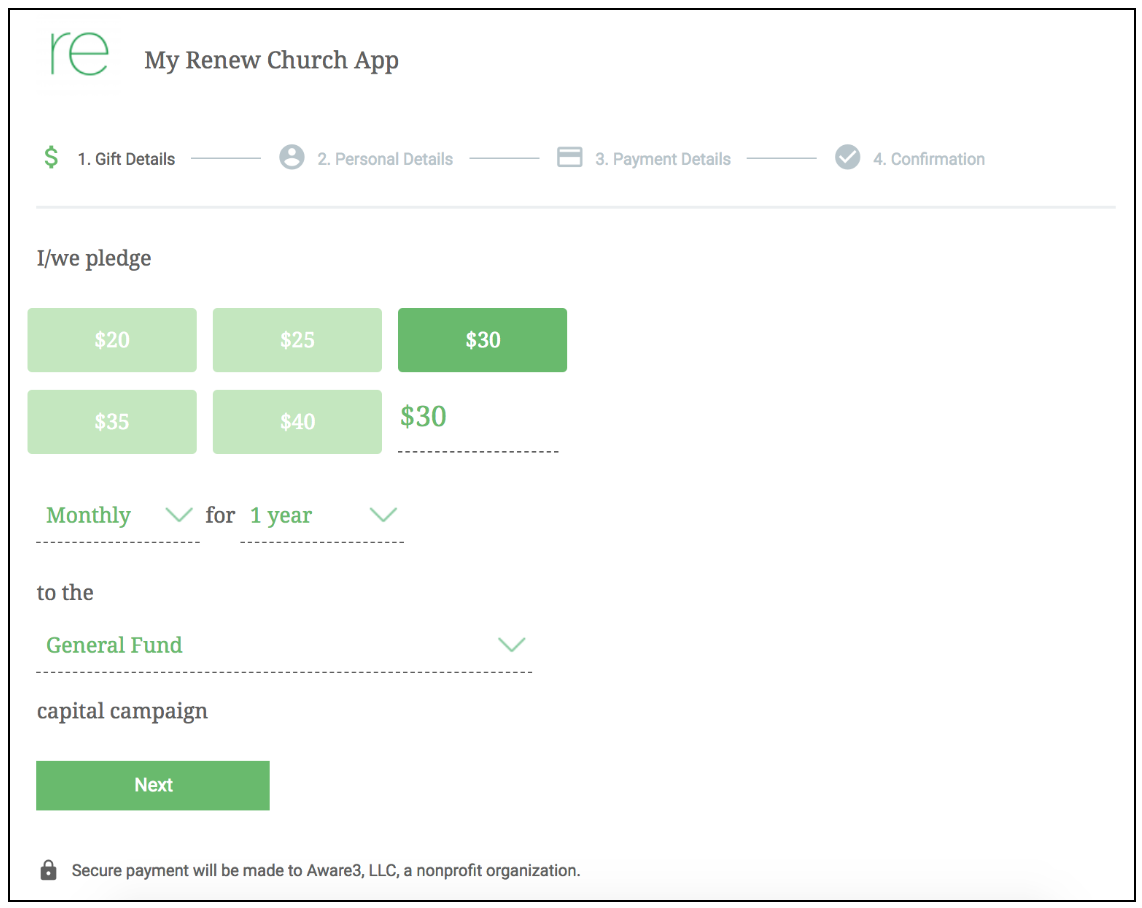 After gift amount, frequency, duration, and fund are selected, the donor will be taken through the normal giving experience. They'll enter personal details, payment details, and the first gift of the series will be processed immediately after clicking 'Process.'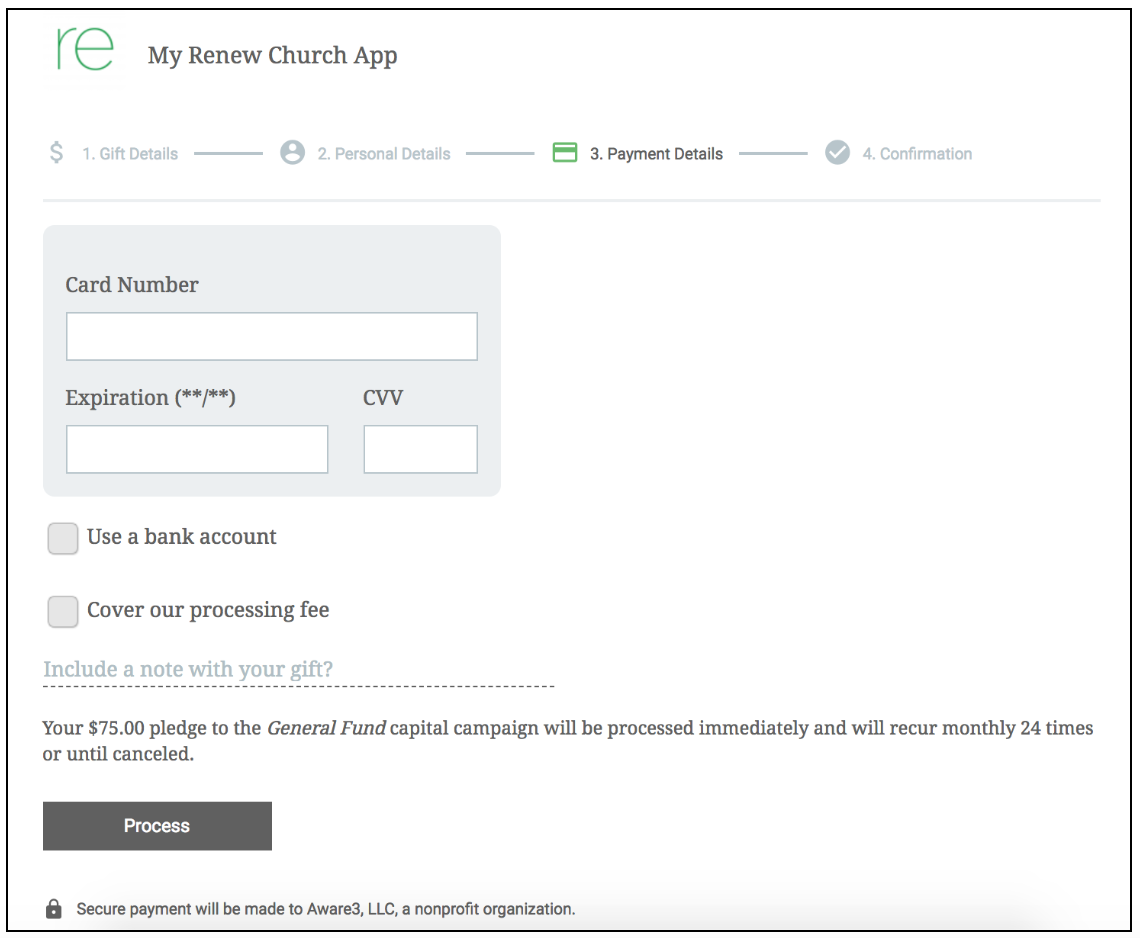 Reporting
To view whether a gift is part of a pledge series, navigate to Giving > Transactions within the aware3 portal. If the gift is part of a pledge series, a checkmark will appear in the 'Pledge' column.

This information will also be included on the Transactions page export under 'Pledge Series' as 'Yes' or 'No.'

Frequently Asked Questions
Q: How do I cancel a pledge?
A: A pledge can be canceled the same way a recurring gift is canceled. Donors can click 'Manage Gifts' inside of the app, then click the garbage can to cancel their pledge series. Admins can also cancel the series on behalf of the donor by clicking the 'x' next to the series on the Giving > Transactions page.


Q: What is 'capital campaign' that's listed under the fund?
A: This is a default read-only field that has no impact on donations.


Q: What if I don't see the 'cover our processing fee' option?
A: Contact support@aware3.com to turn on this setting and allow donors to cover your processing fee.