Understanding the Giving Dashboard and Transactions Page
The Giving Dashboard and Transactions page offer detailed insights about your donations, making it easy to get the data you need.
Want to know which channel is the most popular for your donors? The Giving > Dashboard shows a breakdown of donations via source, and you can also see this information by filtering the Transactions page. Reporting on a certain month's donation totals? Easily access this information on the Transactions page using a date filter. Interested in breaking down transactions by donor name, or seeing recurring donations? The Giving Dashboard and Transactions page provide all of the data points you need to accurately report financial information through your aware3 giving tools.
Giving Dashboard
The Dashboard shows a breakdown of gifts through Web, App, Text, and Form.

There is a breakdown of donations made via Credit/Debit and ACH, as well as a Fund breakdown.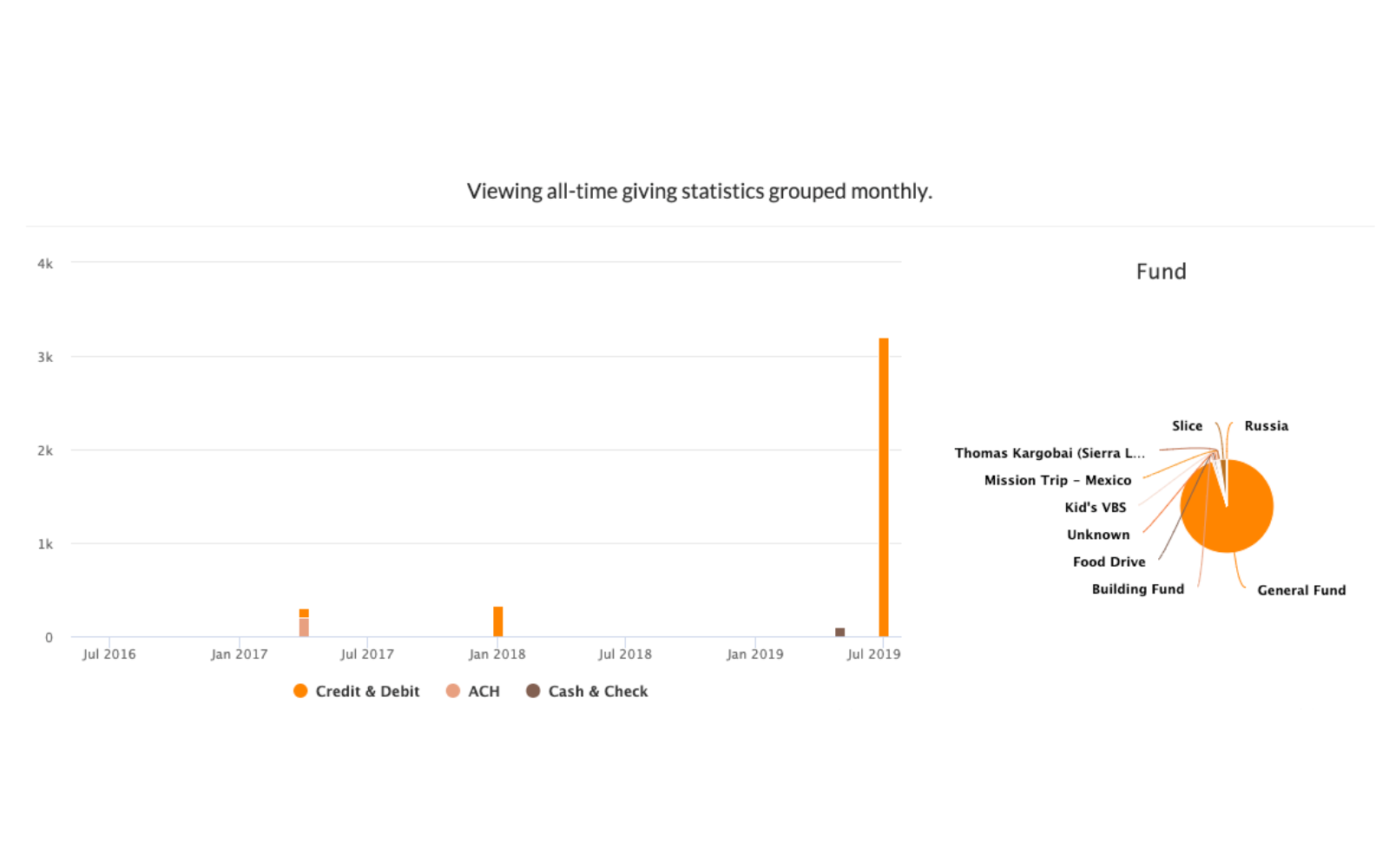 A pie chart breaks down donations by giving channel, and a one-time and recurring gift chart shows a month-by-month visual representation of one-time and recurring gifts.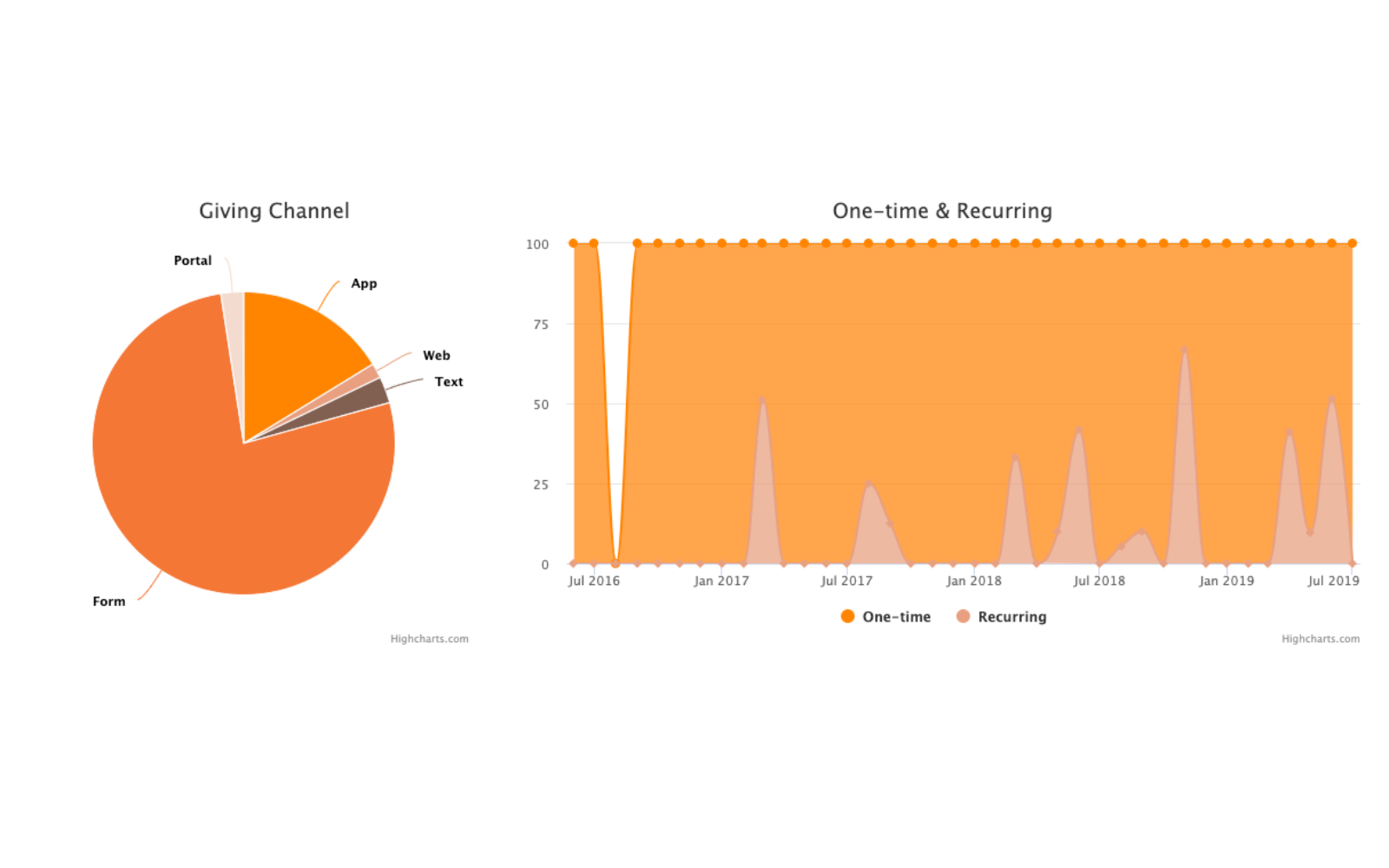 Transactions Page

The Transactions page provides a detailed breakdown of all gifts and allows you to filter data how and when you need it. Simply click Giving > Transactions, then use the Filter button to apply a filter or filters.
Below, column headers found on the Transactions page and in the Transactions export are defined. While not all columns are on the Transactions page itself, you will see all of the columns when you export the full list.
ID: aware3 gift ID, record of the gift inside of aware3

Initiated: transaction execution date/time

Source: where the gift originated

App (from the app)

Web (web giving link)

Text (Text-to-Give)

Portal (manual entry of cash or check)

Form (payment through an aware3 form)

Pledge Series: whether the gift came from a pledge

Approved: whether or not this transaction was approved initially

Campaign: name of aware3 appeal, if the gift was part of a appeal

Campus: name of campus if aware3 campus; ID number of campus if non-aware3 campus (i.e. CCB campus)

Fund: fund name if aware3 fund; other fund ID if not aware3 fund (i.e. CCB or PCO)

User ID: person's system ID, whether aware3 or other system (i.e. CCB or PCO)

Gift ID: CCB gift ID; will be blank if not running CCB

Person Custom ID: optional custom ID field from People > Profiles

First Name, Last Name, Email, Street, City, State, Postal Code, & Country: donor's personal information entered during the gift process

Amount: gift amount; includes transaction fees if donor has covered them

Transaction ID: processing ID for processor

Transaction Type: Credit or ACH

Batch ID: aware3-assigned batch ID

Settlement Date: date that funds are submitted for deposit to the bank

Frequency: if gift is recurring, how often gift is set to occur -


1 DAY - daily
7 DAY - weekly
1 MONTH - monthly
1 YEAR - yearly
4 YEAR - quarterly

Fees Covered: whether transaction fees were covered by the donor

Note: optional note that donor can include when they give
Transactions Export Options
Three transaction export options are available at the bottom of your Transactions page:
Standard export via Excel
PowerChurch export
ParishSOFT export