At aware3, we believe in the power & importance of community-minded organizations. We help those organizations grow their impact by making it easy to engage anytime, anywhere.
Mobile App Plans
We have three standalone branded mobile app plans to help you engage and connect with your members wherever they are! Our platform lets you completely customize your branded mobile app to look and feel like your church and community. Our mobile app plans include our giving platform at no extra cost to you beyond a flat 3% processing fee for credit and debit donations and a 1% processing fee for ACH donations with our processor.
*Note: All of our app plans have a 1 year term that is auto-renewing. See Terms and conditions here.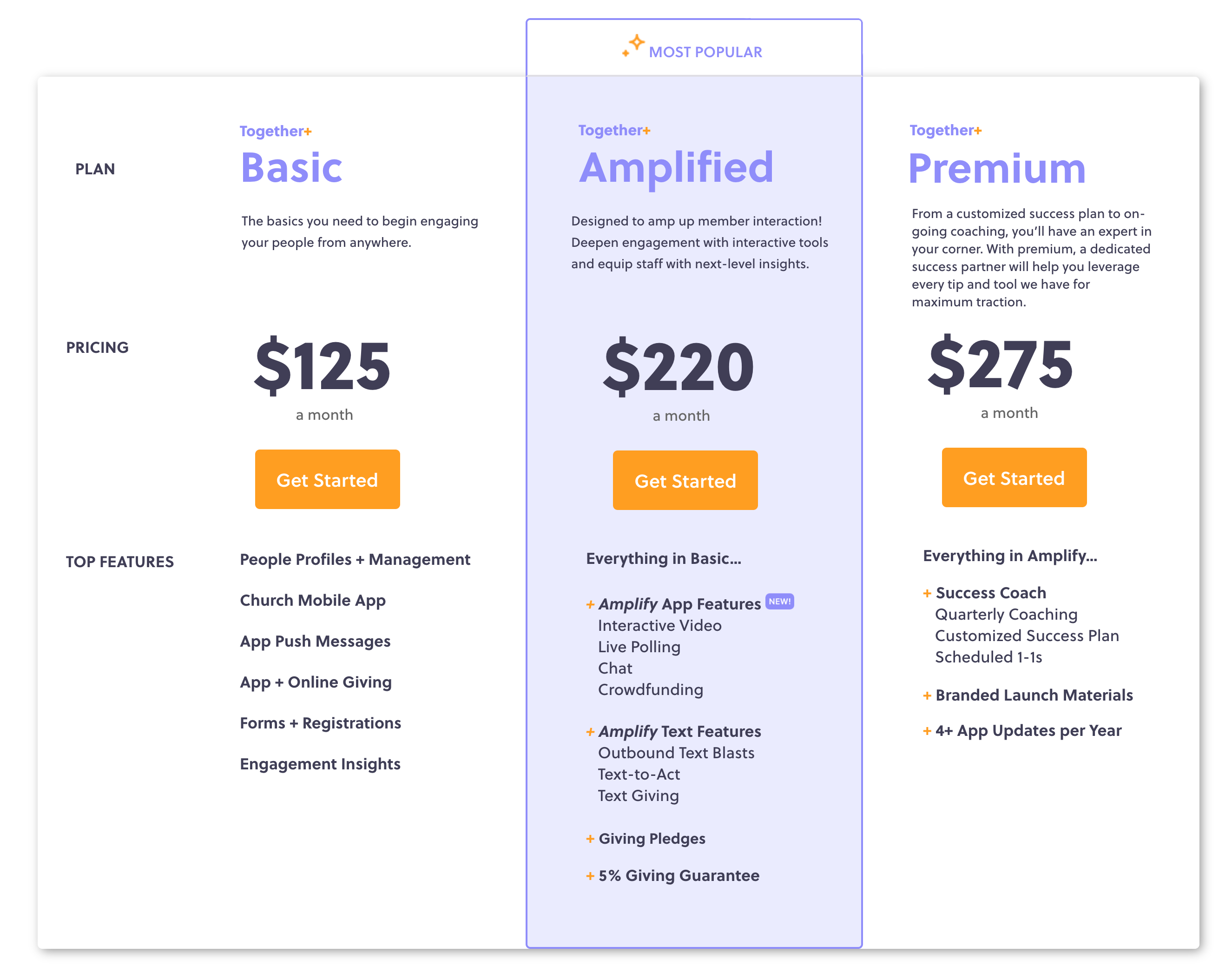 You can learn more about the plans above on our website here.
All-in-One Giving (Optional)
Our giving solution is included in the cost of your app. No additional cost beyond what you pay today - just a flat 3% CC/1% ACH with our processor. Our giving solution can help drive generosity by reducing barriers, providing the option for donors to cover fees, crowdfunding and Text-to-Give.
Our Giving Only plan is also available for $29/month without the mobile app.
The features that come with our giving solution are:
Legacy Plans:
Listed below are the Basic Plan, Standard Plan, and Premium Features. These are a part of our legacy plans and are not available for purchase for new customers.
Basic Plan:
Our first standalone branded mobile app plan is our Basic Plan. Our basic plan is $1,776/yr or $109/mo (Monthly billed plans are subject to 1 year term). Our Basic Plan includes the following features:
Standard Plan:
Our Second standalone branded mobile app plan is our Standard Plan. Our standard plan includes all of the features listed above along with several premium features. The Standard Plan has an annual fee of $3,176/yr or $292/mo (Monthly bill plans are subject to 1 year term). Our premium features help you connect and communicate with your members on a deeper level. The premium features are:
Premium Features:
Our premium features can be added to our Basic Plan on a month-to-month agreement. These features can be removed from your account at any time. If you would like to add one or multiple premium features to your account, send us a note at support@aware3.com. The individual prices for our premium features are listed below.
If you have any questions or need help, send us a note at support@aware3.com!