Chat is a great way to communicate in real time directly within your branded app.
Add Chat-Enabled Tags For Users to Join
Go to the Profiles > Tags page in the portal to create tags. Once you create a tag, click on that tag to edit the Tag Details. You can create private tags for groups like staff or publicly viewable tags for groups like a prayer group.

To make the tag chat-enabled, select the box next to Chat Enabled.
For tags to be public, select the circle next to Public Tag. For tags to be private, select the circle next to Private Tag.
Tag Users
For internal communication among a chat group, each person needs to be tagged. Learn how to tag users and how users can tag themselves in this tags article.
How users subscribe
Group Chat is available as a button for your app home screen as well as under the side menu beneath the chat bubble icon. Through Chat, on the app home screen or in the side menu, members can manage the interests they're part of.
A chat bubble indicates you can chat with people who share a similar interest in real time. You must opt-in before you can chat.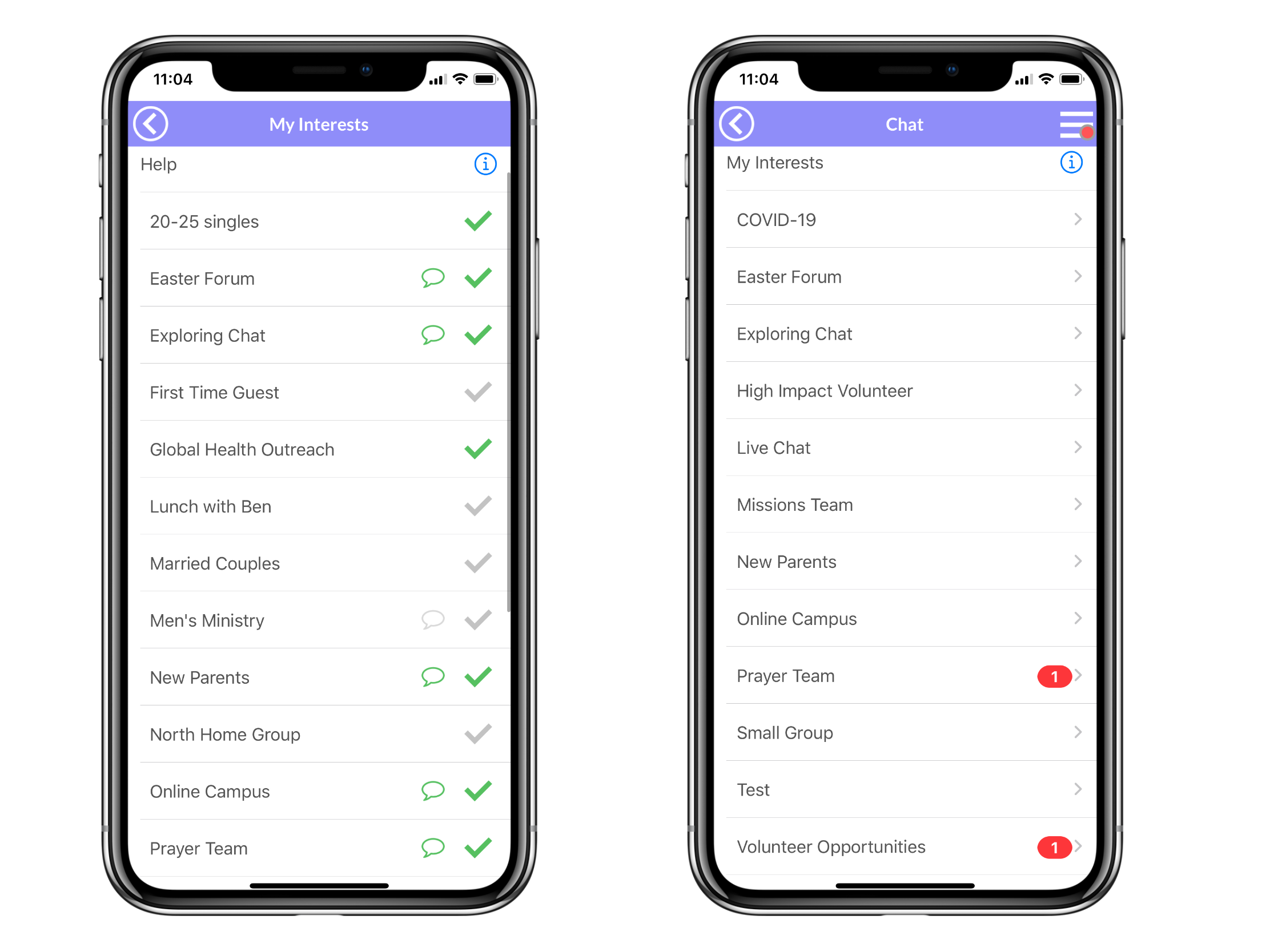 Chat experience
After a chat message is received and the user opens the app, the red indicator appears on the app icon. This indicates that the user has unread chats.
Users can add their profile to as many devices as they'd like, such as their Android phone and iPad. Chat works across all of their devices simultaneously.
Users can also send URLs via chat (version 36.0.0 or higher), using this format as an example: https://google.com. This makes it easy to send links to worship lyrics, Zoom meetings, or anything else available through a URL.
Delete Messages as an Admin

To delete messages, go to the App > Chat page in your portal. Click the dropdown menu in the top right corner of your screen and select the tag's chat you want to view.

Scroll to find the message you want to remove. Click the red X next to the message and click the red check mark that shows up.

Check out our short video on the Chat Feature below!
If you have any questions or need help, send us a note at support@aware3.com!