Fundraising Appeals Setup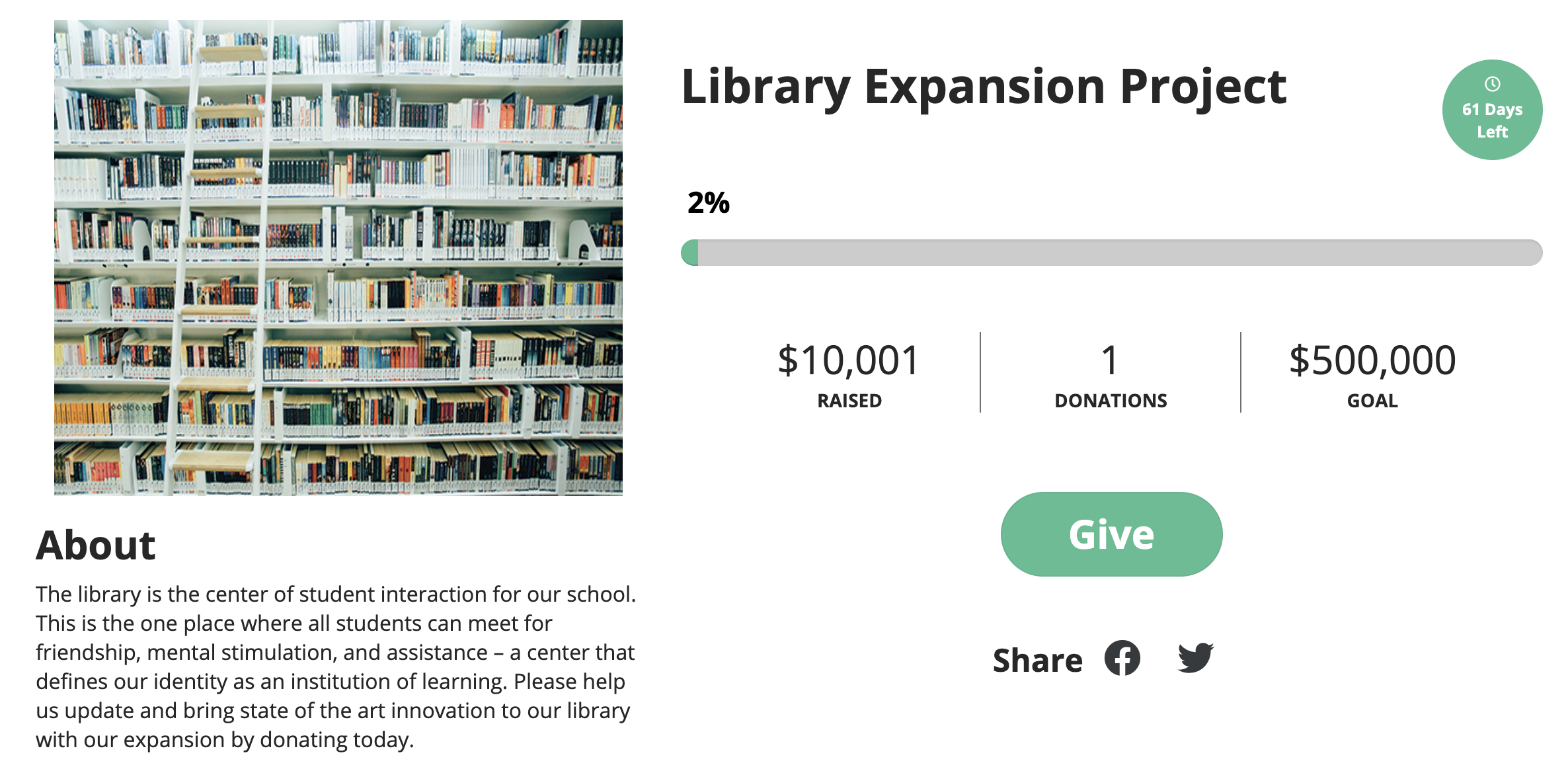 Appeals are special fundraising pages with target dates, live progress bars, images and descriptions that help bring your fundraising efforts to life.
*Before March 2019, Appeals were named Campaigns. As of March 2019, Campaigns are now separate features that provide roll-up reporting to see the progress towards a fundraising goal that includes multiple Appeals. You can read more about Campaigns and how to set them up here.

Creating an Appeal
First, go to Giving > Appeals, then click the green + to create a new Appeal.
Appeal Properties
Title

Include a name for your Appeal that will display front-and-center for your donors.

Description

This section provides more contextual information about your fundraising goal. Providing a detailed description helps your donors understand more about what you are hoping to accomplish.

Campus & Fund

Select the campus and fund that will be associated with the Appeal.

Start & End Date

Start Date. Select a date for the Appeal to begin and officially go 'live.'
End Date. Select an end date if there is a particular date for the the Appeal to wrap up.

Note: A defined end date isn't required - so if it's a continual fundraiser, you'll just skip this field.

Goal & Total Raised

Goal. This is the total amount you would like to raise for this Appeal.
Total Raised. Total donations that have been made to the Appeal to-date. This is a calculation performed by our system and is a read-only field based on donations made to the Appeal, as well as manual adjustments and cash/check entries associated with the Appeal.

Manual Adjustment

Account for gifts accepted outside of the aware3 system - e.g., checks and cash given that haven't been entered on the Transactions page (if you enter check/cash donations on the Transactions page, they will be reflected directly in the Total Raised, not the Manual Adjustment). Manual Adjustment is great for entering a large amount received outside of the aware3 system if you don't want to enter transactions individually via the manual Cash and Check entry feature. Any amount entered for the Manual Adjustment will be reflected in the Total Raised. The Manual Adjustment field is a running total, so if you want to add to it, simply add the new amount to the old amount and enter the brand new total in the Manual Adjustment field.

Appeal Image

Upload an image that you would like to display for the Appeal (640x400 PNG or JPEG image). Including an image helps personalize the fundraising effort for your donors, helping them visualize the impact they're helping to make.
Can my Appeal be shared on sites outside of my app?
Of course! Every Appeal you create produces a URL. This URL can be found by hovering over your Appeal and clicking the "View Appeal" button. A new window will open and you can copy the URL from the URL field at the top of your browser.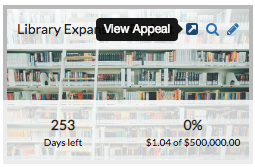 This gives you the flexibility to include the URL on your website or other public sites to help you reach your goals.
What does my public Appeal page look like?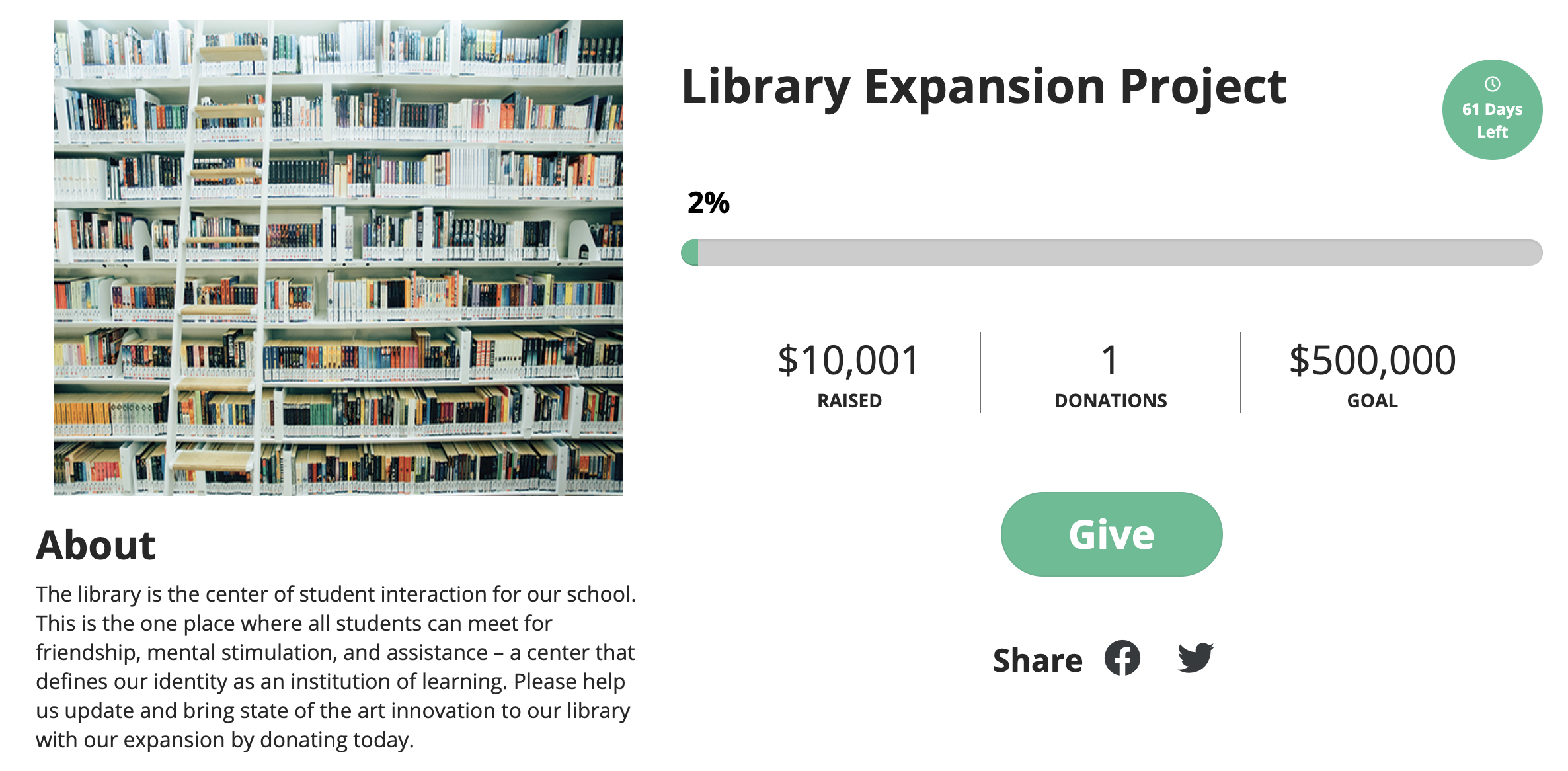 The page will show:
Image
Description
Total amount raised
Percent raised towards the goal
Number of donations that have been processed for this Appeal
Total Goal
Number of days remaining in the Appeal
Facebook and Twitter share links to share the Appeal on these social media sites