Text-to-Act is another way to build a deeper connection with your church members. From offering volunteer opportunities and collecting prayer requests to sharing daily devotions, open up texting as another avenue for communication. You have the ability to completely customize the keywords and messages your members receive.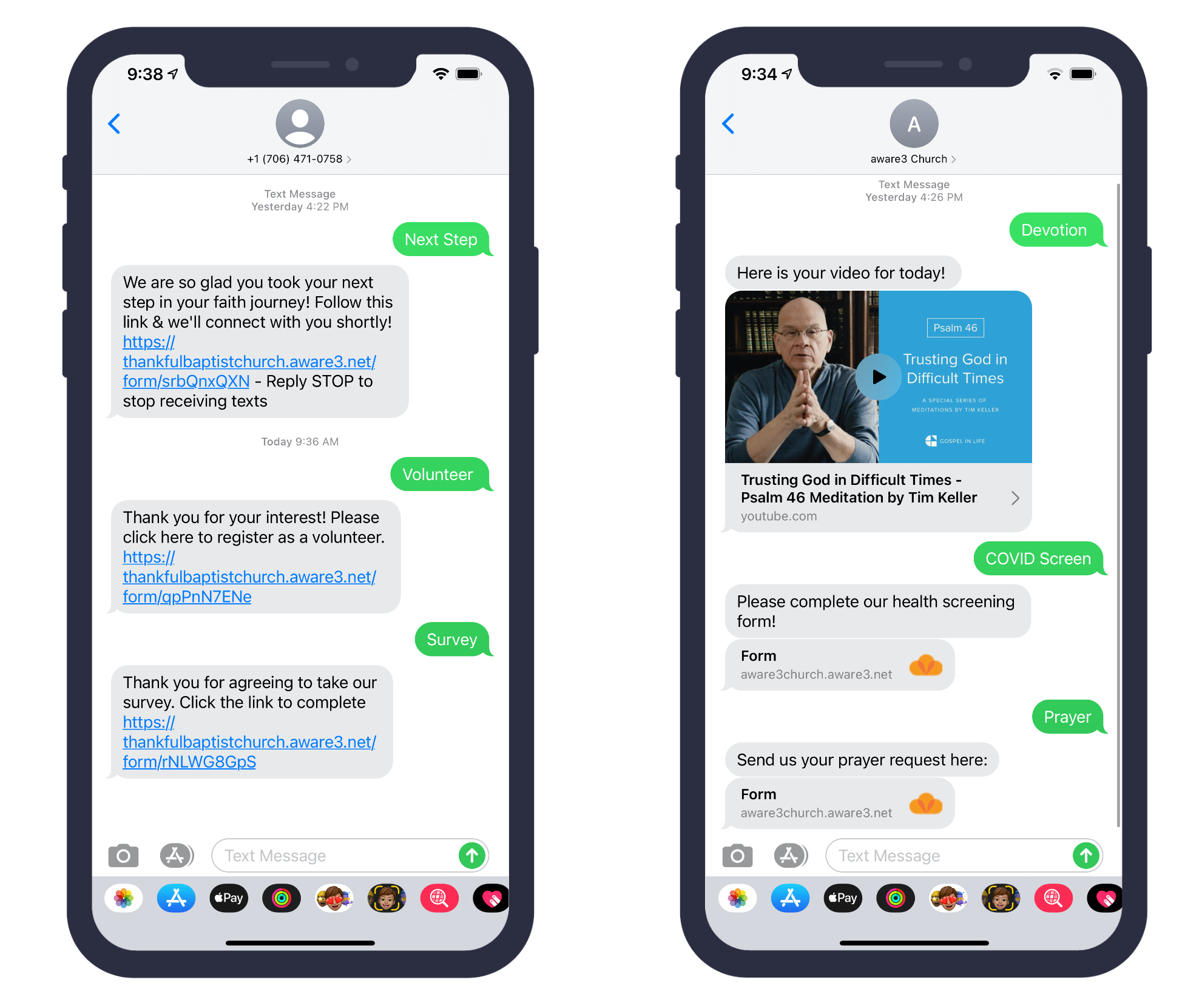 Let's Get Started
As you begin using this feature, remember:
Keep the messages short and meaningful.
Remember to link to something like a form to fill out when looking to gather additional info.
Help with length and appearance by shortening URLs (using a service like bit.ly).
Do not send solely a URL as a response; instead, start the message with a short piece of text and then use the shortened URL.
Getting started in 4-steps:
Navigate to 'Connect' > 'Text-to-Act' tab in the portal.

Start plugging in a 'Keyword' individuals may text to your assigned campus number to receive responses.

Create a 'Keyword' that someone can text to you to trigger engagement, such as 'Devotion', or 'Connect'.

Write the response message and click 'add' to make it live.
If you're looking for inspiration, below are 'Keywords' followed by responses you can try out with your church:
Registration and Needs
Shoebox' Put a smile on a child's face. Sponsor a shoebox:

https:a3a.me/6f633

'Prayer' Need to be uplifted in prayer? Let us know your needs:

https://a3a.me/4d525

'Volunteer' We're looking for volunteers to assist with our Easter service. Let us know how you would like to help:

https://a3a.me/eaed7
Events and Ministries
'Retreat' Register for the Men's Retreat 2016:

https://a3a.me/7eda9

'Serve' Sign up today

https://a3a.me/479bb

'Small Group' Ready to take the next step? Find and join a small group:

https://a3a.me/eaed7

'Peru' Provide ongoing support to the Robinsons' by helping to cover annual expenses:

https://a3a.me/bSS6b
Sermon Content/Sunday Morning
'Connect' Thank you for joining us! Please fill out our connection card: https://a3a.me/6a67d
'Prepare' Click here to pause for a minute and prepare for Sunday! https://www.youtube.com/watch?
'Next Step' We are so glad you took your next step in your faith journey! Follow this link & we'll connect with you shortly! https://thankfulbaptistchurch.aware3.net/form/srbQnxQXN
Mid-Week Engagement
'Devotion' Here is your video for today!

https://www.youtube.com/watch?v=pG1yCv_EYKI

'Renew' Click this link from your phone to download our Renew app:

https://a3a.me/myrenew

'Read' Thank you for checking out our blog!

https://explore.aware3.com/2019/08/a-pastors-honest-review-of-aware3s-all-in-one-church-app/
Note: Below is a list of keywords that are already systematically reserved.
App

- Lets individuals quickly and easily download your app!

Demo

- download aware3 church our demo app.

Start

- start a new donation

Cancel

-stop current text-to-give donation to start a new donation

New

-stop current text-to-give donation to start a new donation

Give

- make a one time donation

Update

- update your saved payment method for donations

Campaign(s)

-make a donation to a campaign

Stop

-unsubscribe to text

Unsubscribe

-unsubscribe to text

End

-unsubscribe to text

Quit

-unsubscribe to text

Help

-provides direction on how to participate in text-to-give, update or change your info or unsubscribe.

Who

- introduces mobile concierge for your organization.

Hi

-update profile information

Hello

-update profile information
Spreading The Word!
To help spread the word around this tool, share you text number in your bulletin and/or slides as well as within your mobile app using the "Text Us" feature. Also, mention this option during announcements and let them know how simple the process is - just another way to invite the entire church body to participate.
Check out our short video on how to create key words and response messages for Text-to-Act below!
Text-to-Act is part of our Text Engagement Suite (includes Outbound Text, Welcome Concierge and Text-to-Act). Interested in adding this to your plan? Send us a note at support@aware3.com!