Church & COVID-19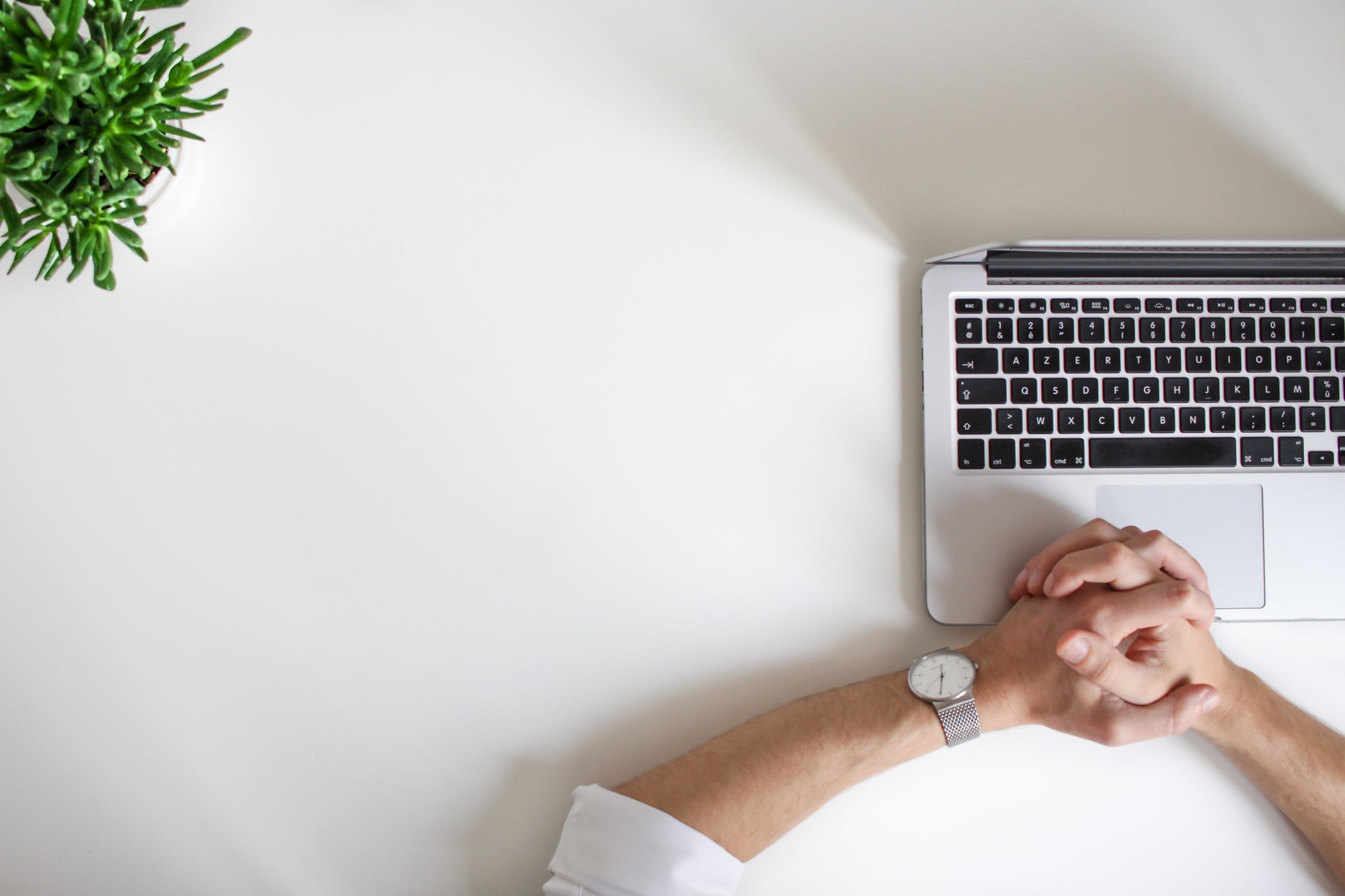 With the uncertainty that the Coronavirus has brought to our world, churches are navigating the changing face of church. Day-to-day life has changed almost overnight. There's a new "normal" for almost every aspect of our daily lives, including church. Most in-person church services are being swapped out for live streamed or video recorded services in an effort to keep people safe and healthy.
With fear on the rise and social isolation the new norm, church and community are more important than ever.
The church isn't limited by its physical walls, and now, more than ever, churches are using technology for "virtual church." In addition to live streaming your services each week, how else can you keep your people connected with the church and one another?
Making the transition to virtual church starts with creating, connecting, and communicating.
CREATE


Intentionally create a place inside your mobile app for "virtual church."
Use a feature hub to house multiple features under a single button (name it "Virtual Church" or "Church Online"). Include the top 5-7 features that someone attending church remotely might be interested in. Here are some ideas: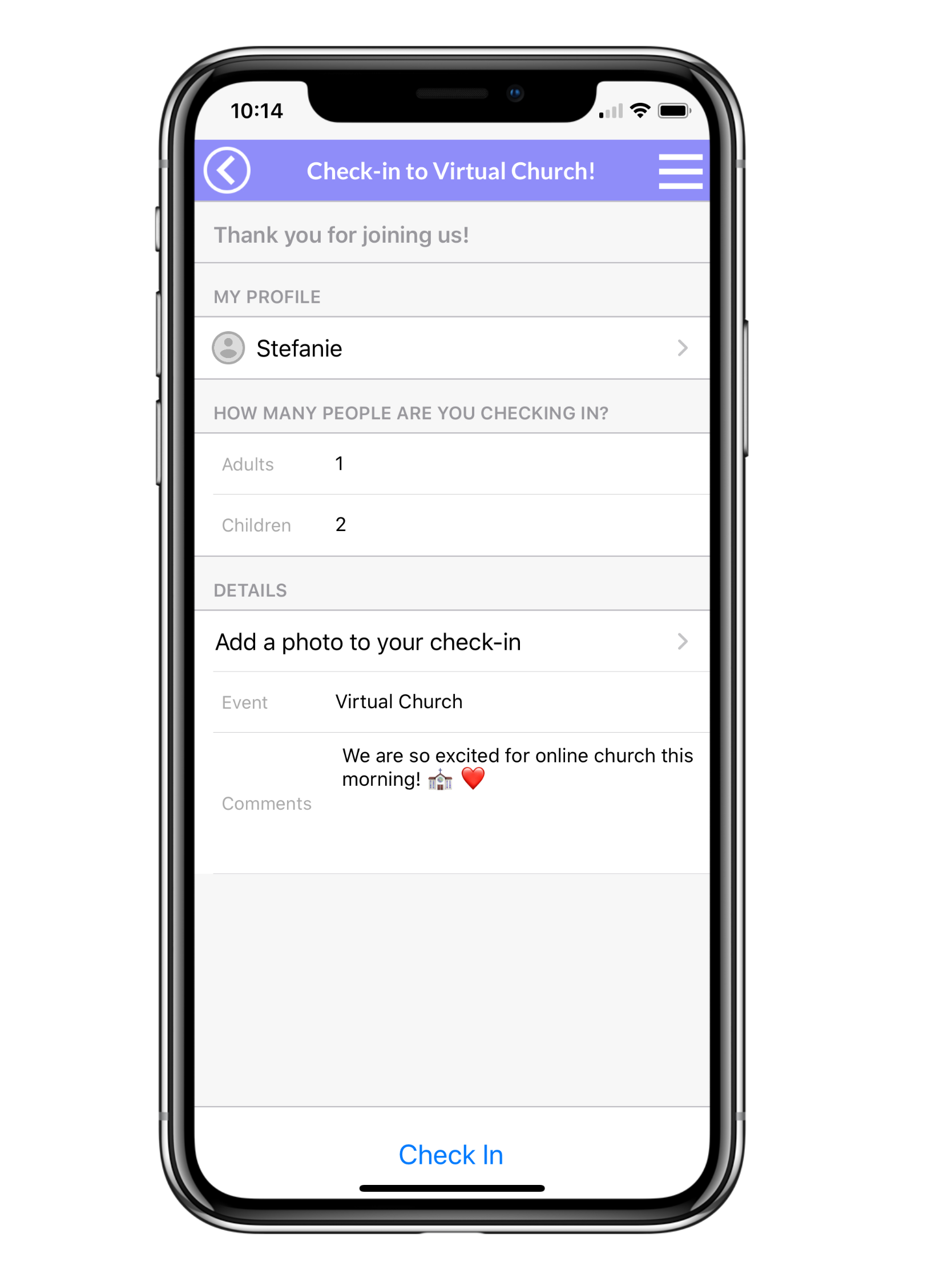 Prayer Request. Create an

aware3 form

for prayer requests.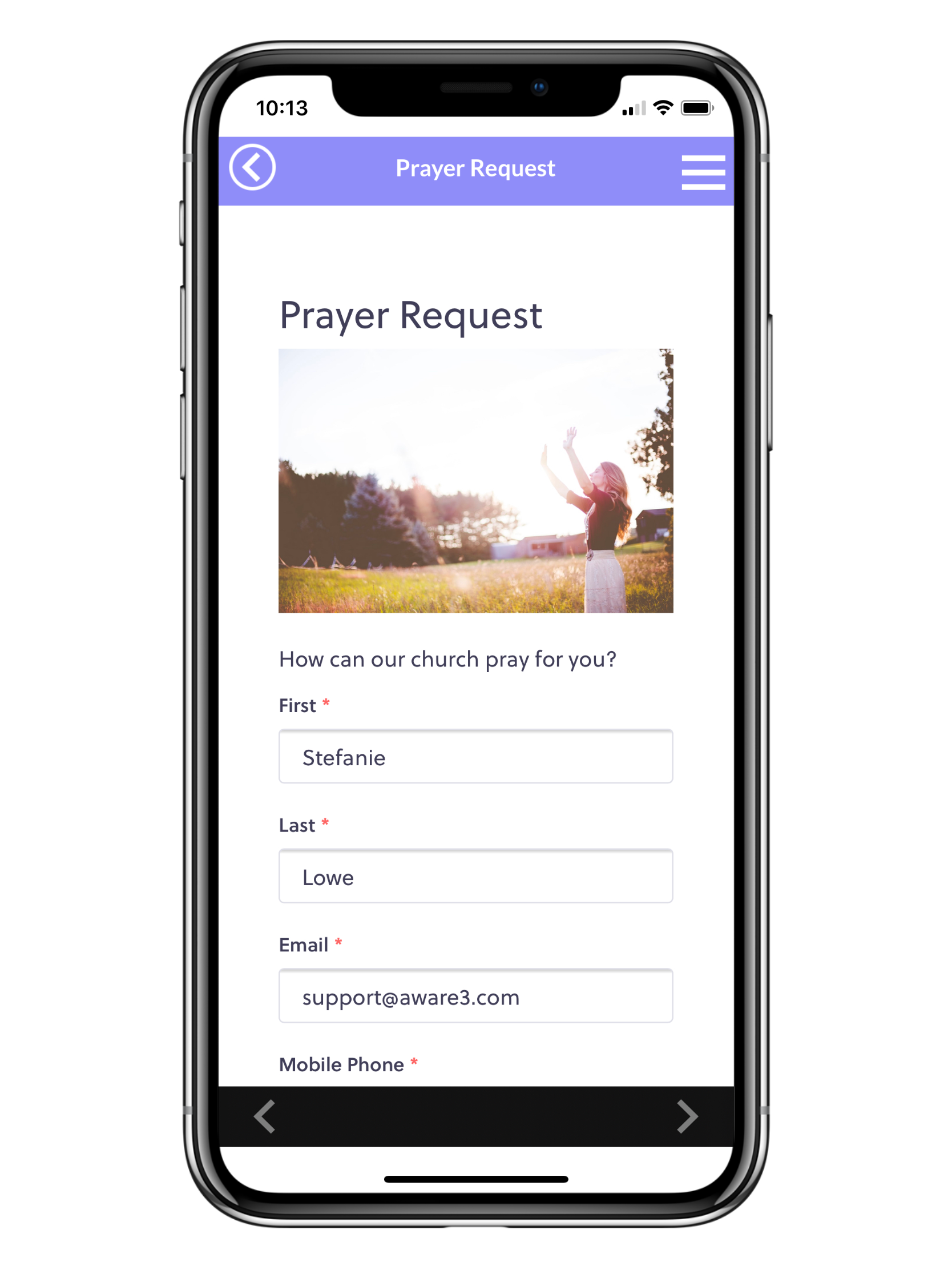 Bible Study/Sermon Notes. Create an outline for people to follow along with the sermon or participate in a Bible Study throughout the week.
Prayers and meditations. Use an RSS feed or Info Page to post daily or weekly prayers, reflections, or meditations.
Online giving. Just because a physical offering plate isn't being passed, doesn't mean generosity slows down. In hard times, generosity often increases as people look for ways to share resources with others. Plug online giving and appeals (special crowdfunding pages) into your Virtual Church feature hub.

Tip: Choose a local nonprofit to partner with, such as a food bank, and create an appeal page dedicated to this special giving effort. Appeal pages allow you to upload photos and write a description to provide more context.
aware3 giving is included in all app plans at no extra cost (just 3% CC and 1% ACH processing fees). Want to get started? Email support@aware3.com.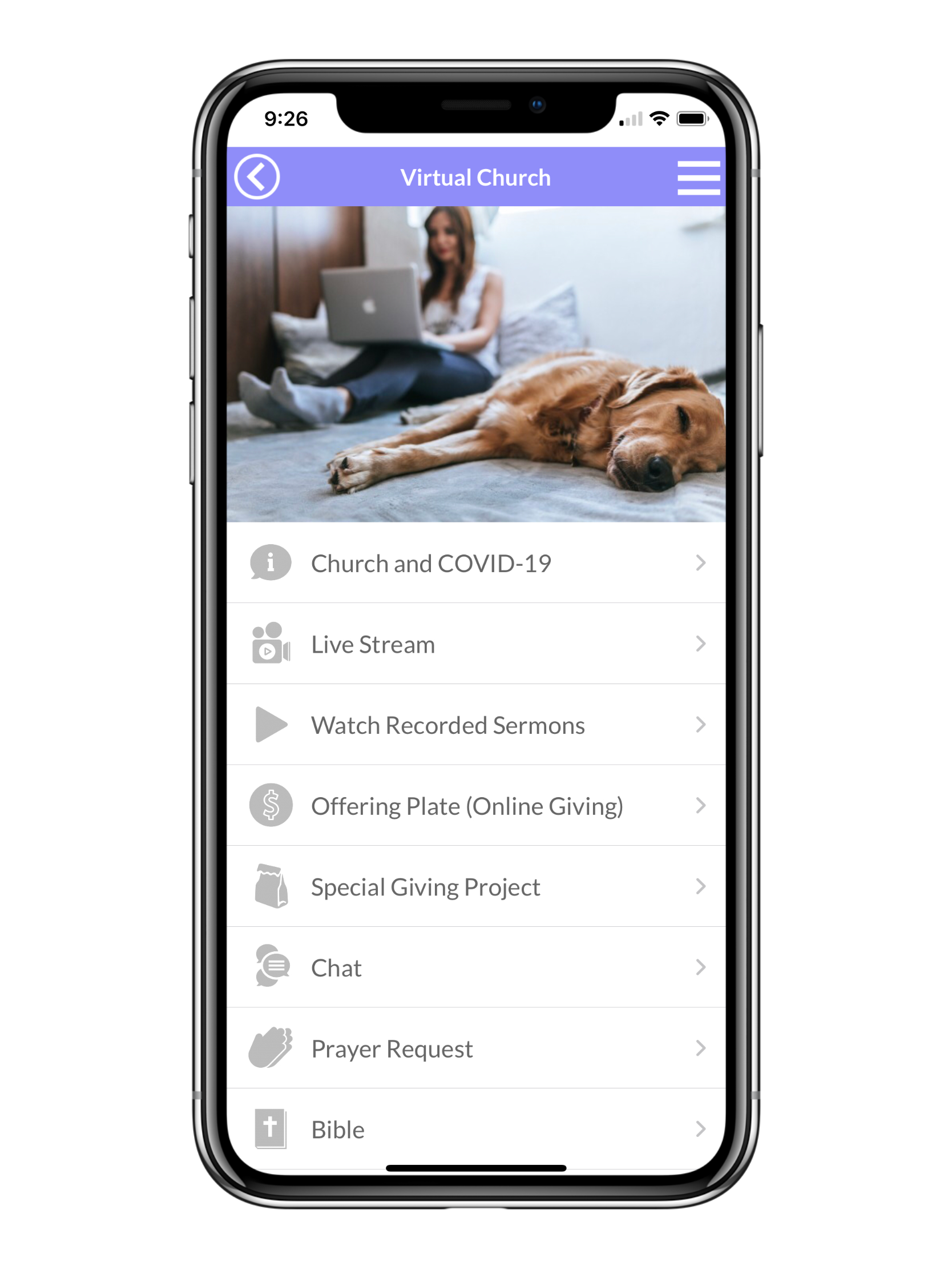 *Download the aware3 church demo app to see these features in action!
CONNECT
Social connection is more important than ever as people face uncertainty, fear, and hardship. Use connection features like member directory and chat to encourage people to reach out to each other, say hi, or lend a hand. (These features can be used in standalone buttons in your app, or put inside of feature hubs.)
Member Directory
Your mobile directory provides a list of contacts with phone numbers and email addresses.
Easily call, text, or email another member through the directory.

The directory shows what public interests (tags) people have in common with each other.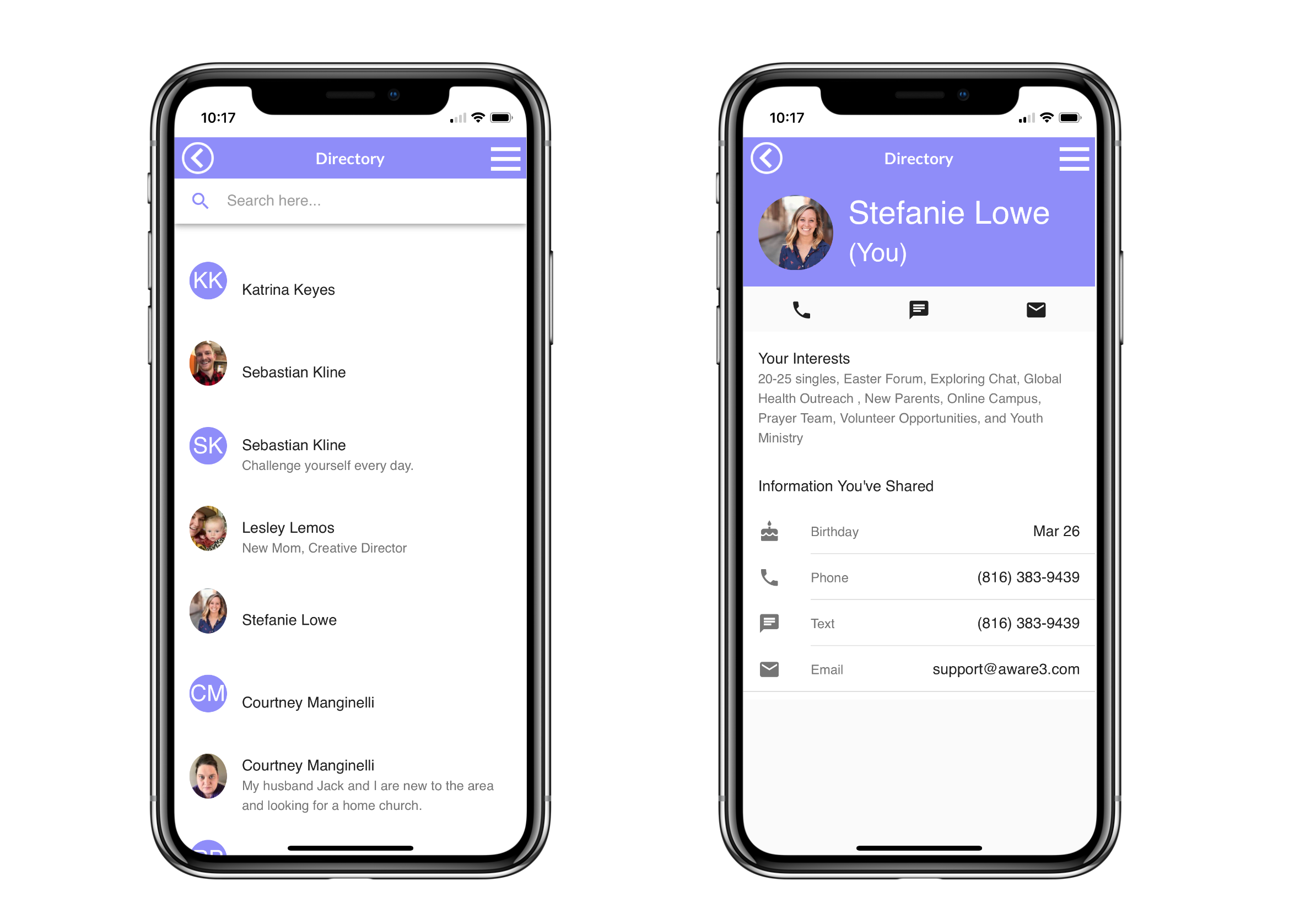 People can set "About Me" in their profile, which will display in the directory (if approved by an admin to be listed).

Member Directory is included in the Standard plan, or available to add on to any plan for $29/month. Contact support@aware3.com to add Member Directory to your plan.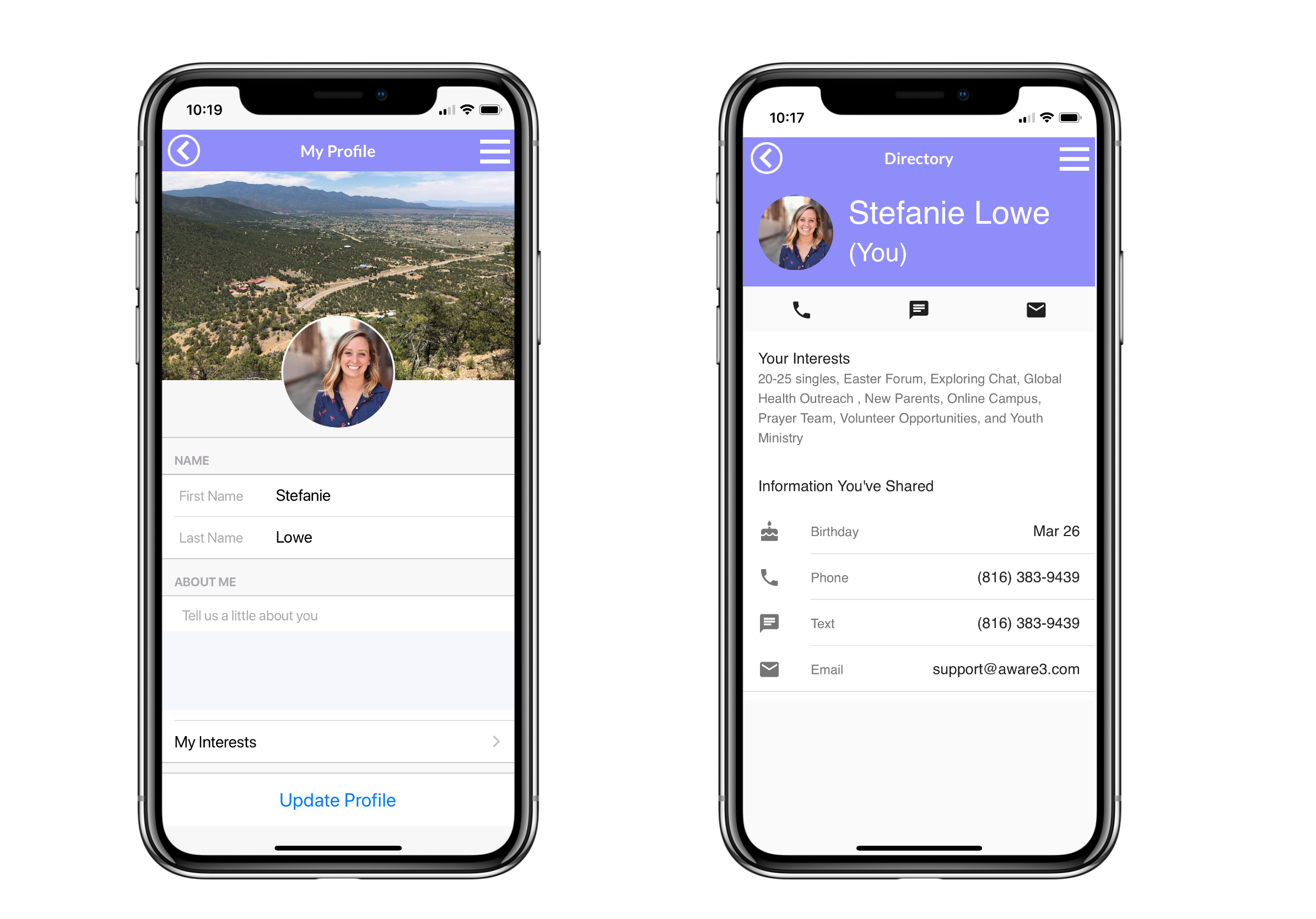 Chat
Chat fosters connection and togetherness by allowing groups of people to message each other in real time. Chat is popular with small groups and staff. When people are unable to meet in person, chat gives them a way to share information and stay present in each others' lives.
Chat can be enabled for any tag.
Chat is included in the Standard plan, and can be added to any plan for $39/month. Reach out to our team at support@aware3.com if you want to add Chat to your plan.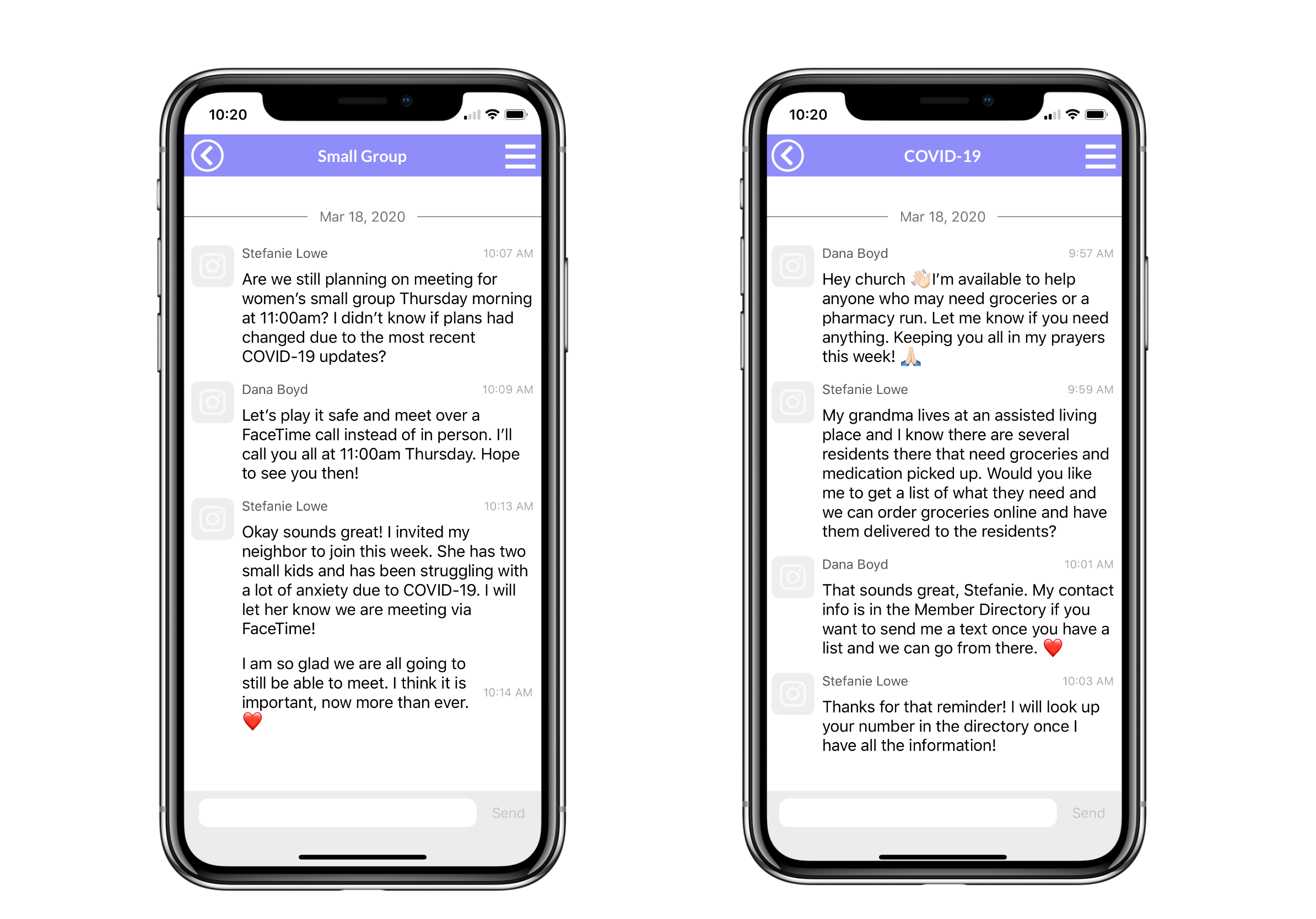 COMMUNICATE
With the state of affairs changing daily or even hourly, use real-time communication tools to keep your community informed and engaged. Push and text messages are the name of the game here.
Communicate expectations. Where can people find updated information? How can they participate in church during this time? How can they get involved and help others in need? Use your app's communication tools to be clear about how the work of the church will continue virtually.
Send unlimited push messages with any app plan. If you don't have outbound text included with your plan, reach out to our team to add it today.
Tip: Encourage people to make sure they have app notifications turned on so they can receive push notifications.

Tip: With content-targeted push messages, people can open the message and go straight into a certain app feature. Helpful for Virtual Church push messages!
Here are some examples of push messages we've seen our church partners send:
The church and COVID-19 preparedness. Open the app for details.
Are you enjoying church at home today? Snap a picture to share & tag the church #FearNotLoveFirst on social media!
Friendly reminder that we will be gathering virtually for church this Sunday. Join us online to watch & worship with us!
Check out the new Chat option in the app to stay connected!
Click "Watch" to watch our recording from this morning's service!
Service is about to begin! Tune in to Facebook Live. Invite someone to watch with you!
Even if you couldn't join our BIGGEST-EVER worship live stream this morning, we'd love for you to fill out a communication card!
Our worship service live stream is online now; find our YouTube and Facebook Live links here. No accounts needed!
Learn about our Facebook & YouTube Live worship service @ 9:45 am tomorrow. Tap the event in our app calendar. Invite a friend!
A message from Pastor regarding COVID-19 and Sunday's service.
Need help? We're here for you.
This is a strange and difficult time with lots of moving pieces. We want you to know that you are not alone, and our team is here for you. If you need help setting up virtual church in your app or have any questions about your app, please reach out to us at support@aware3.com.