Live streaming your services allows people to participate in church from afar. You can create a free live stream through YouTube, which integrates with your church app.
The new Interactive Video feature provides one convenient location to combine your video content at the top of the user's screen, along with the ability for users to complete linked forms or polls, access notes, or give a gift at the bottom of the screen.
It's time to connect to your members by live streaming through the Interactive Video feature!
Getting Started
First, you'll need a YouTube account and channel to get started.
After logging in to your YouTube account, click your avatar icon in the upper right hand corner, then select Your Channel.
When creating your YouTube channel for the first time, you may need to wait 24 hours for YouTube to approve your account, so plan a few days in advance before launching your first live stream.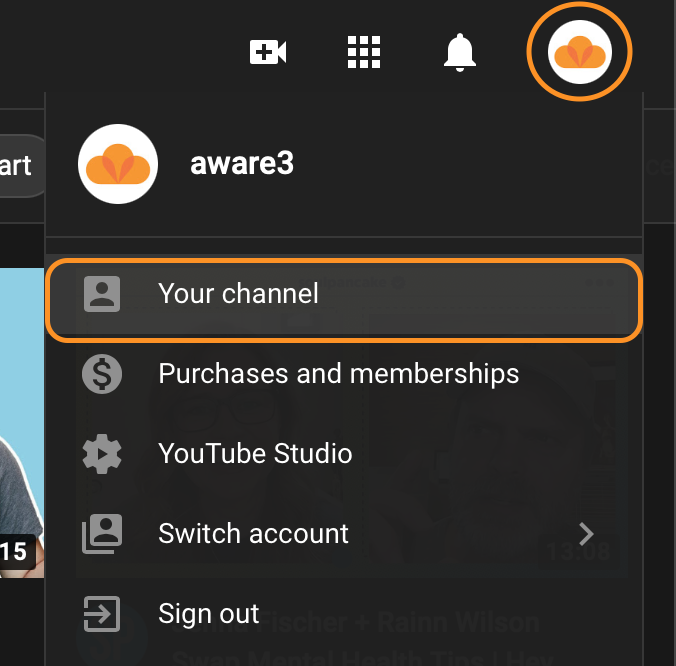 Next, click the video camera icon with the + on it in the upper right part of the screen.



Select 'Go Live.'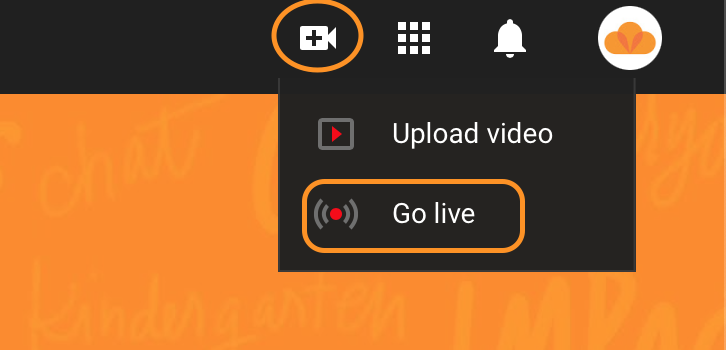 Next, you'll be prompted to enter some basic information about your live stream. Enter the following:
Title for your live stream
Select 'Public'
Schedule for later (optional) - you can go live now, or schedule the live stream to start at a later date/time
Select 'No, it's not made for kids'
Enter a description (optional; this will appear with the video in-app)
Category: select 'Nonprofits & Activism' or other applicable category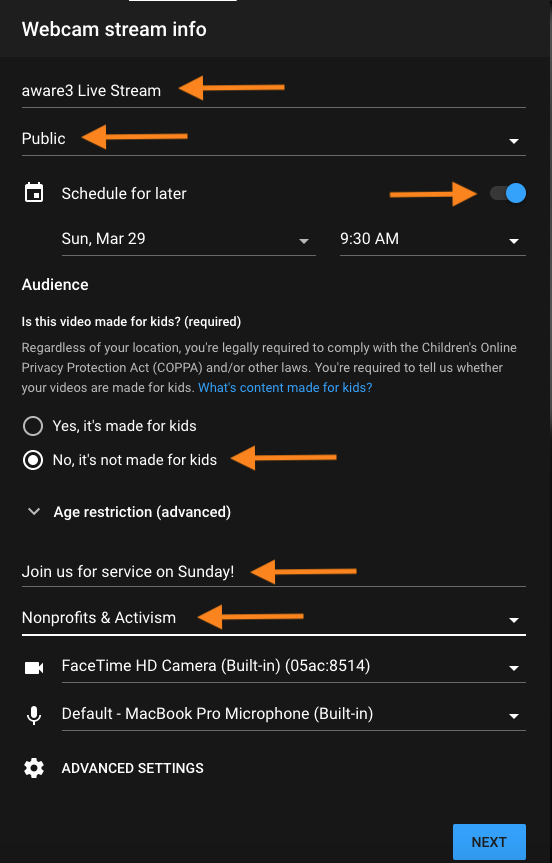 Click 'Next.'
YouTube will take a photo via your webcam for the thumbnail. Once that is taken, you will have the option to upload a custom thumbnail photo, or retake the photo.
Click 'Share' so can see the link to join the live.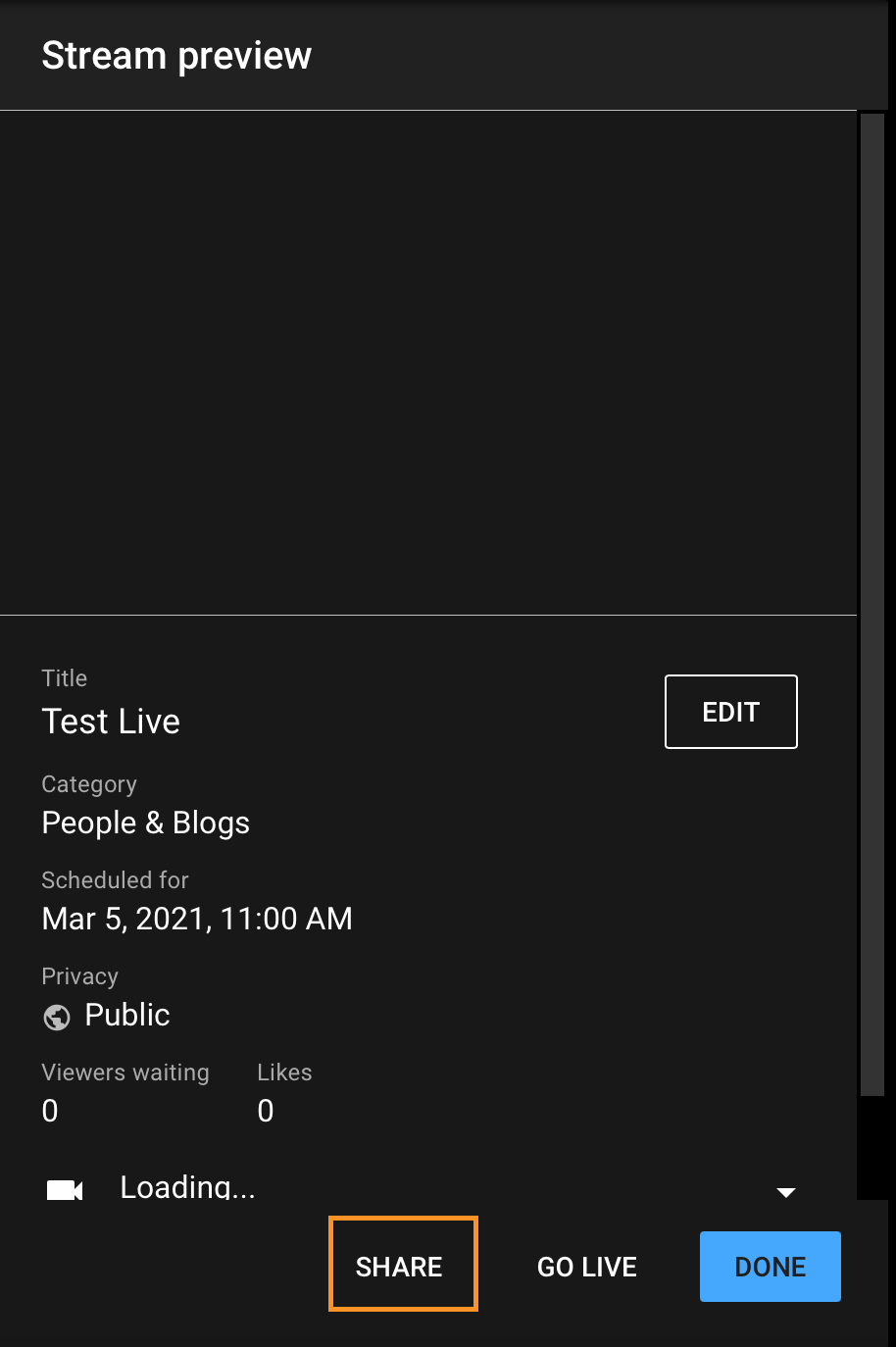 Once you click 'Share', you will see the url link that you can share so that others will be able to see when you go live for that particular session. (Note: Every live session comes with its own unique url link)
Copy the link!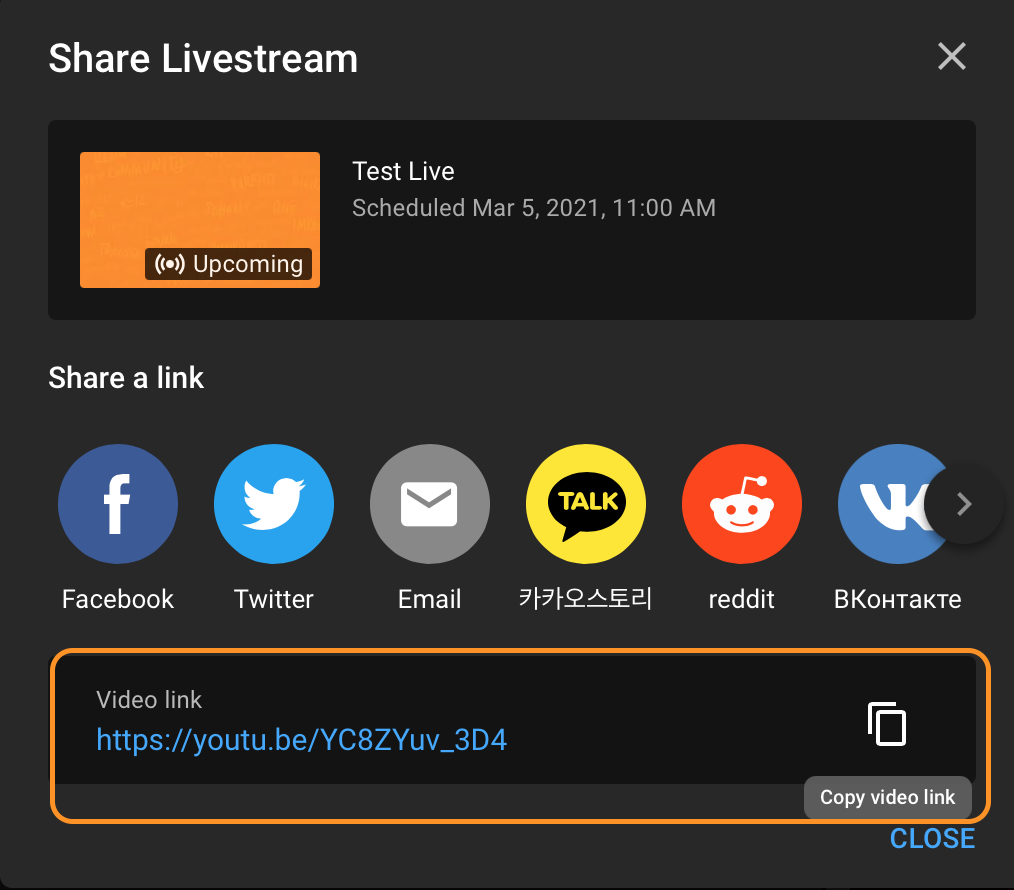 Adding Your Live Video to the Interactive Video Feature
Now that you have your link, we're going to head to your Aware3 portal to insert the link in your Interactive Video Feature.
Not familiar with our Interactive Video Feature? Check out our introductory article to the feature here!
In your portal, you will want to go to 'App' and click the Green Plus Sign to add a new feature.

Scroll down until you see the 'Watch, Single Interactive Video' feature. Click 'Add Feature'.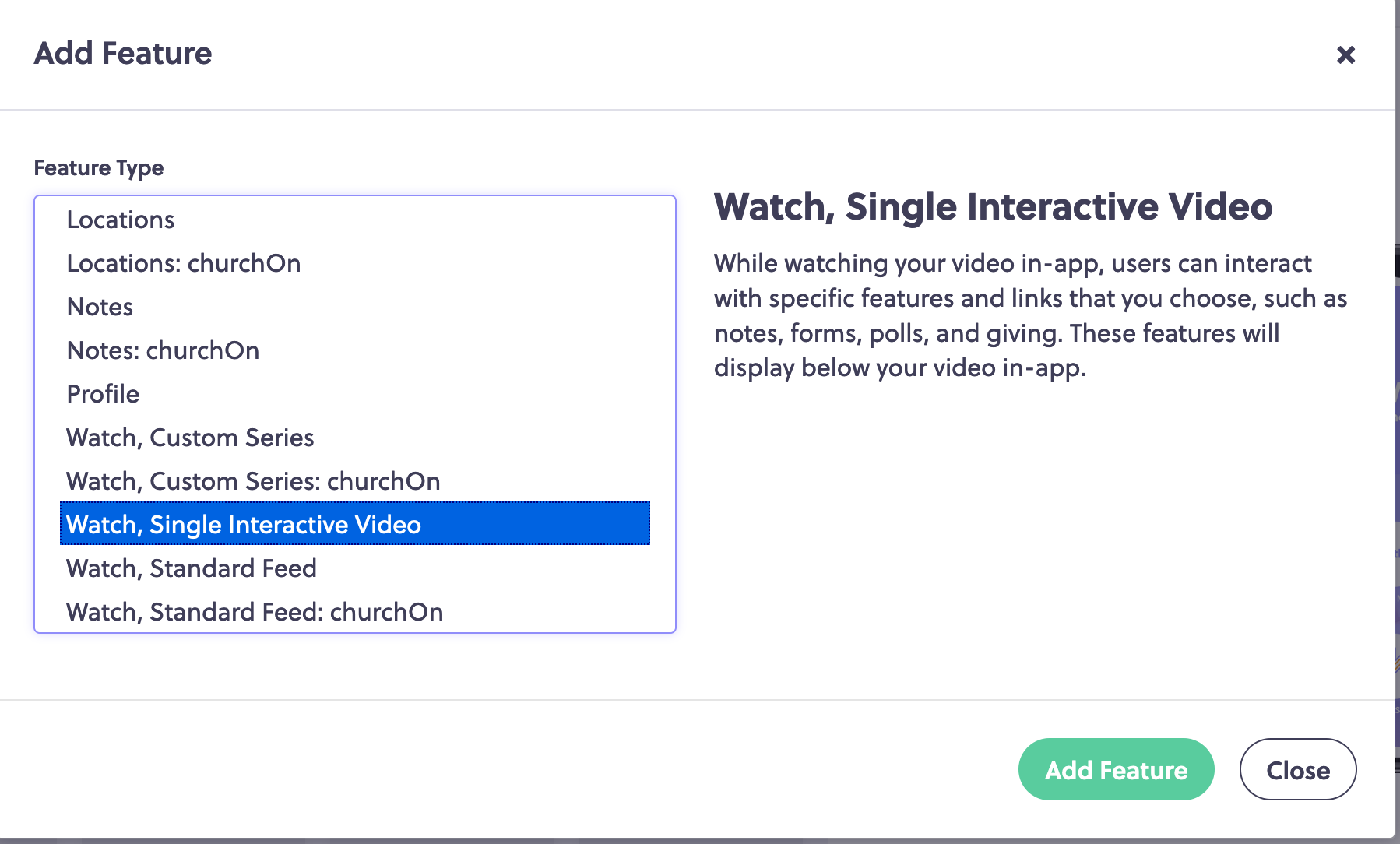 Add the icon to your feature and change the name to whatever you'd like to call it. To learn how to customize a feature, check out this article!
After customizing the feature name and adding an image, click 'Edit Content' to add the link from YouTube to your live session.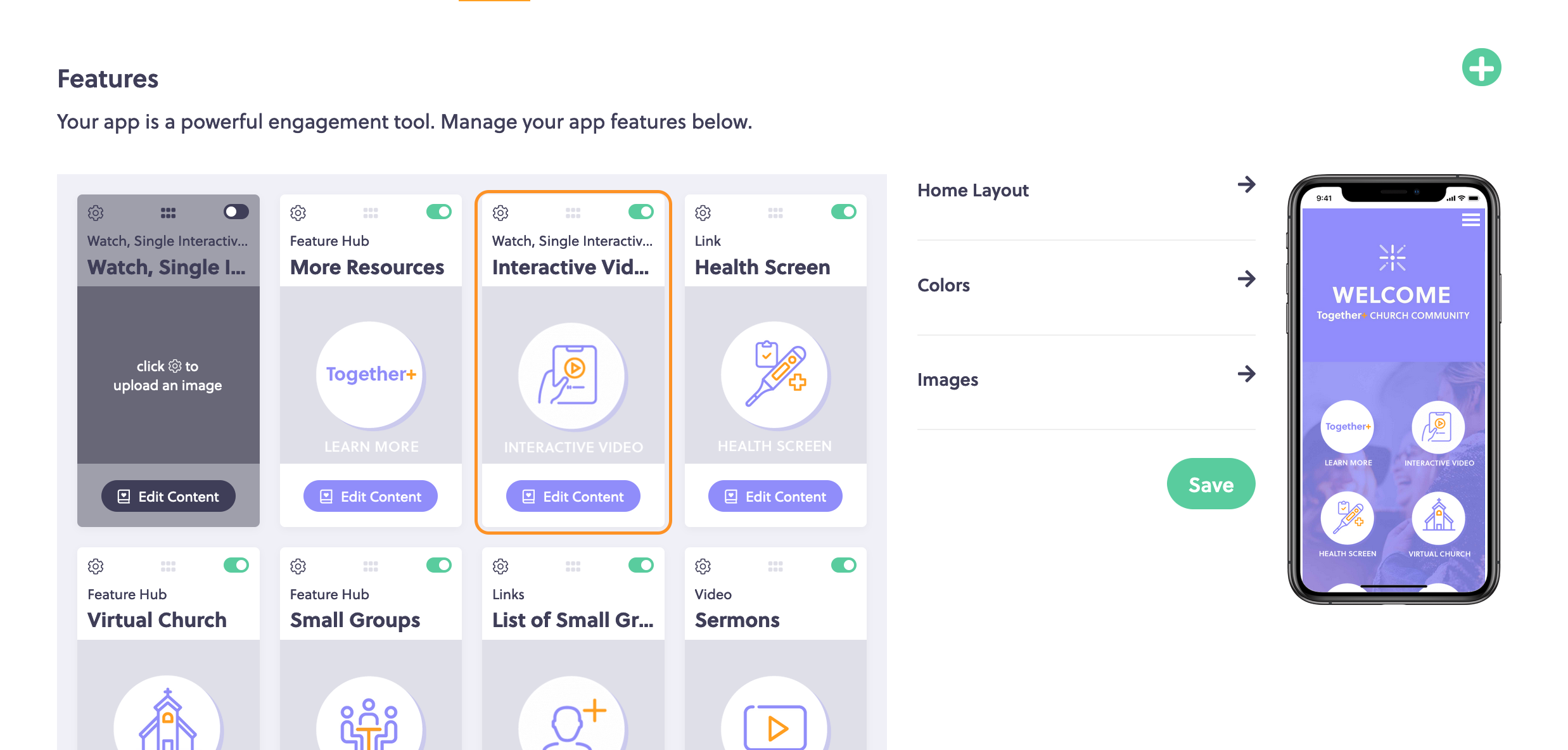 Post your link in the 'Video URL' area and add your desired features. Click 'Save URL' when you're done and voila! You've inserted your live video URL into your Interactive Video feature!