What is Multi- Factor Authentication you ask? Why is this extra step needed every time an admin user is accessing the Aware3 portal?
Multi-factor authentication is part of our compliance with the GLBA regulations (GLBA states that organizations must protect customer data under their care. Since usernames and passwords are not secure, organizations like Aware3 have to bolster security with MFA). Ultimately, this extra step helps protect your data and keep your account secure and safe.
Step by step log in
With MFA the log in process has added an extra step for an extra layer of security for users. Now when logging into the Aware3 admin portal you will follow the steps outlined below.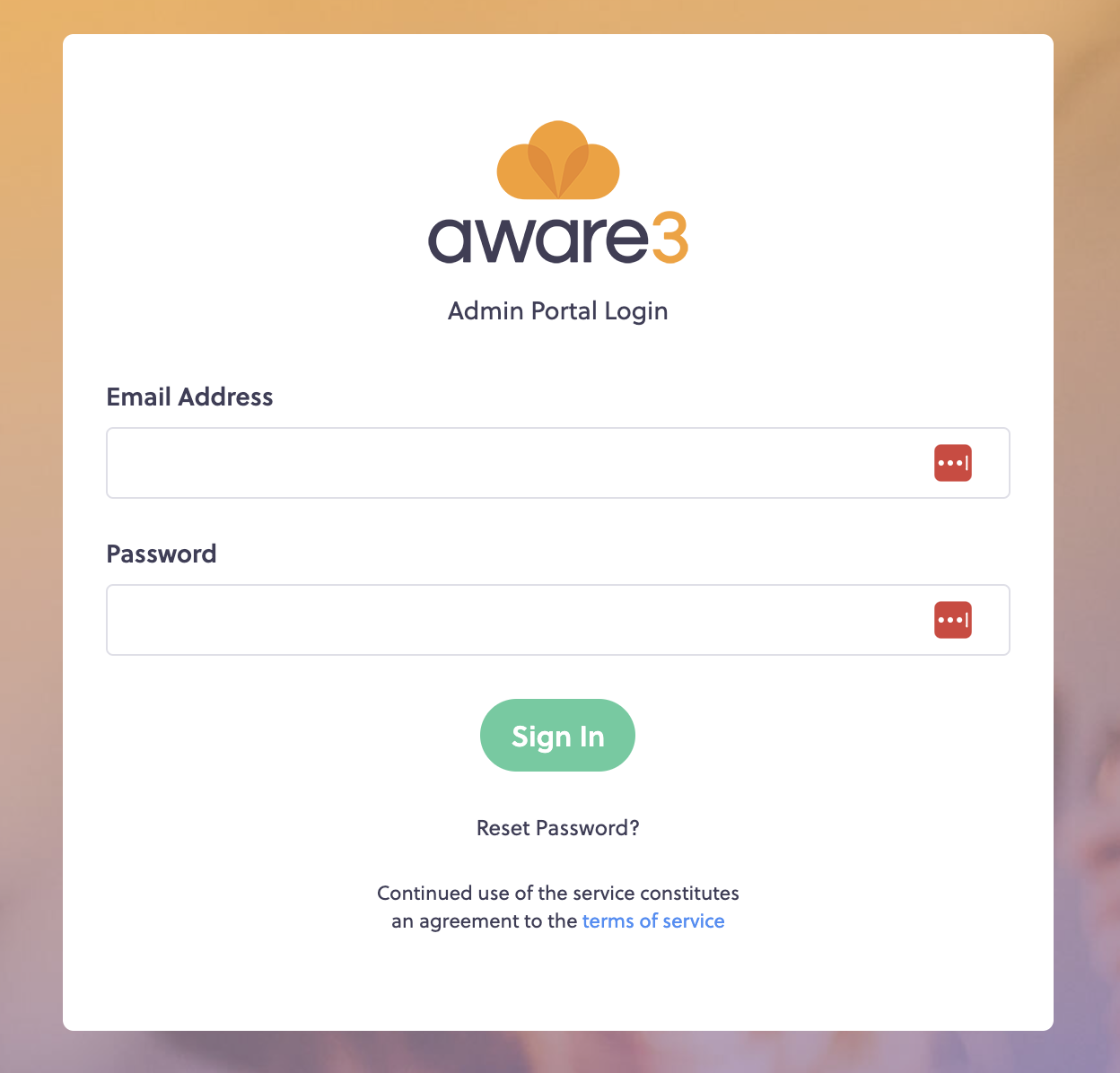 Next, you will receive an email from Aware3 with the subject "

Your temporary Aware3 login link." In that email you will see your one time log in link button and passcode.

Select your log in option:

Option 1. - "Login to Aware3" by clicking the one time login link as shown below.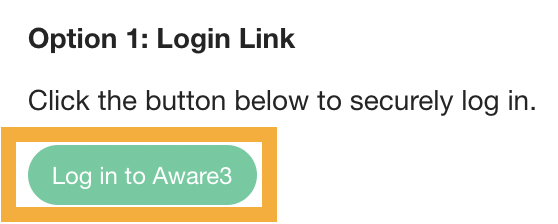 Option 2.- Enter your one time login Passcode on the Aware3 Admin Portal Page.

When selecting the one time login link you will be redirected to a new tab that will open your personal Aware3 Admin account. Form that point you should be logged into your account and ready to go!
Common MFA Log in Issues
If you are having trouble logging into the Aware3 Admin portal, we have identified a few troubleshooting steps that you can take to get to the bottom of the login problem you maybe running into.
Make sure you are accessing the authentication link from the same device from which you are trying to access the admin portal (if you request the login link on your laptop, you'll have to click the authentication link from your email using the same laptop).
Make sure you are not

clicking the "Back to login page" link - clicking this will end the session and require you to request a new link and go through the whole process again, and will likely send you in an endless loop!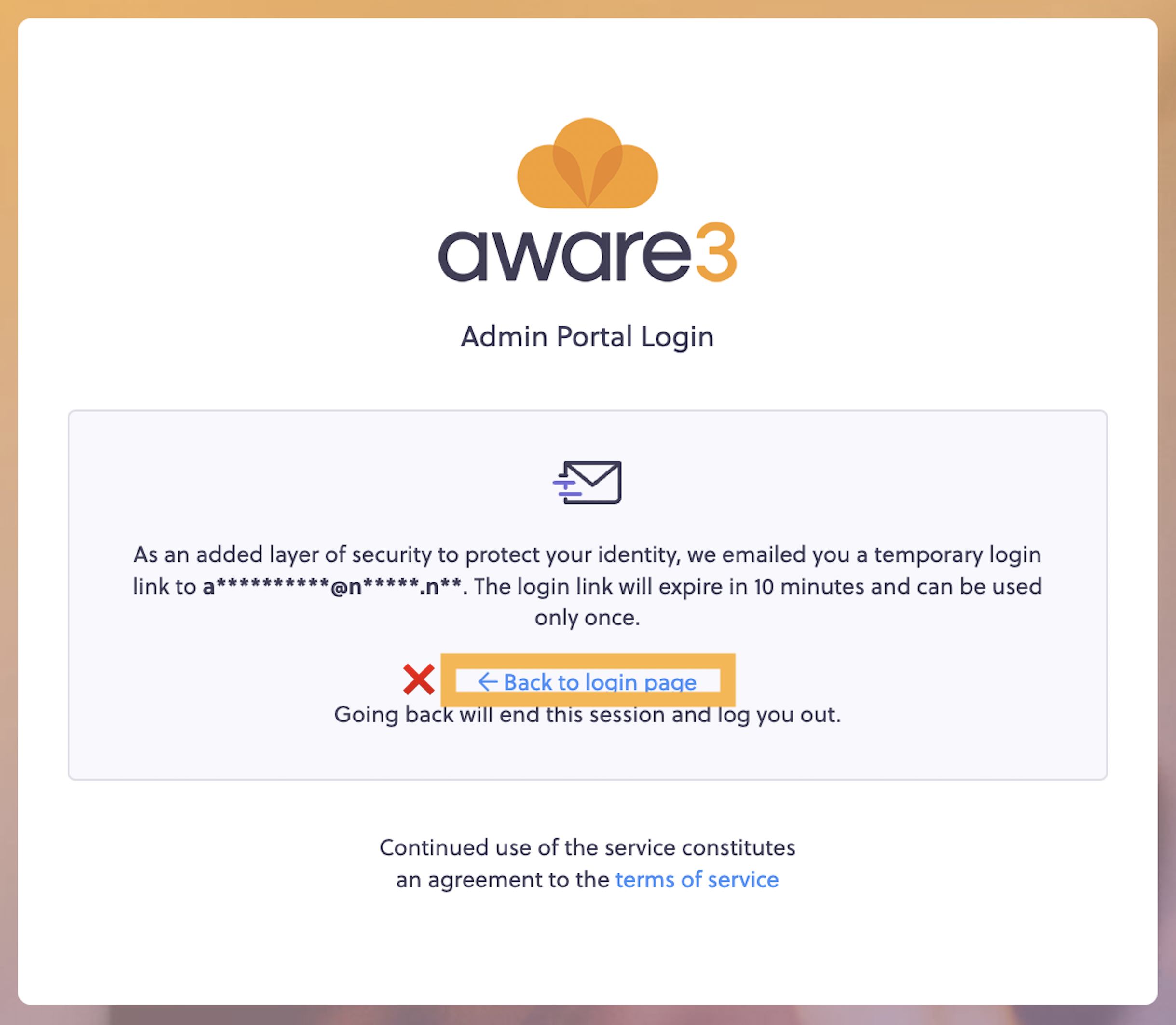 The browser that you initially used to login to aware3.net/login and the browser that your email uses to open the authentication link need to be the same browser. If the newly opened browser is different from the original browser:

Go back to your email and copy the link from the Login button in the email (right click, copy)
Paste that into the browser from which you originally logged into aware3.net/login
Click enter/return
Note: If the issue persist and you are still unable to log in after following the steps outlined above please reach out to our support team for further guidance at support@aware3.com
Multiple team members are having trouble accessing one Admin account with MFA
If you currently have more that one Admin user accessing the same Aware3 Admin account then we strongly recommend getting each user set up with their own personal Admin Account Log in going forward.
Having more than. one team member accessing a single Aware3 admin account can cause confusion with the Multi-Factor Authentication process. For security purposes and to avoid sharing login information a current admin has the permissions to create a new admin user in the portal. This can be done by following the steps to Add a New Admin and you are also able to Manage Admin User Permissions to ensure an extra layer of security for your organizations information.
If you have any questions or need help, send us a note at support@aware3.com!