Find everything you want to know about your people all in one place in the admin portal! This article breaks down each section of Profiles in detail, so you'll know exactly where to find each piece and how to use the information.
Navigating to People
First, click on 'Profiles' then 'People' within your aware3 admin portal.

Hover over an individual profile, and you'll see additional details on the right hand side. Next, click on the 'pencil' icon to view the more in-depth profile page: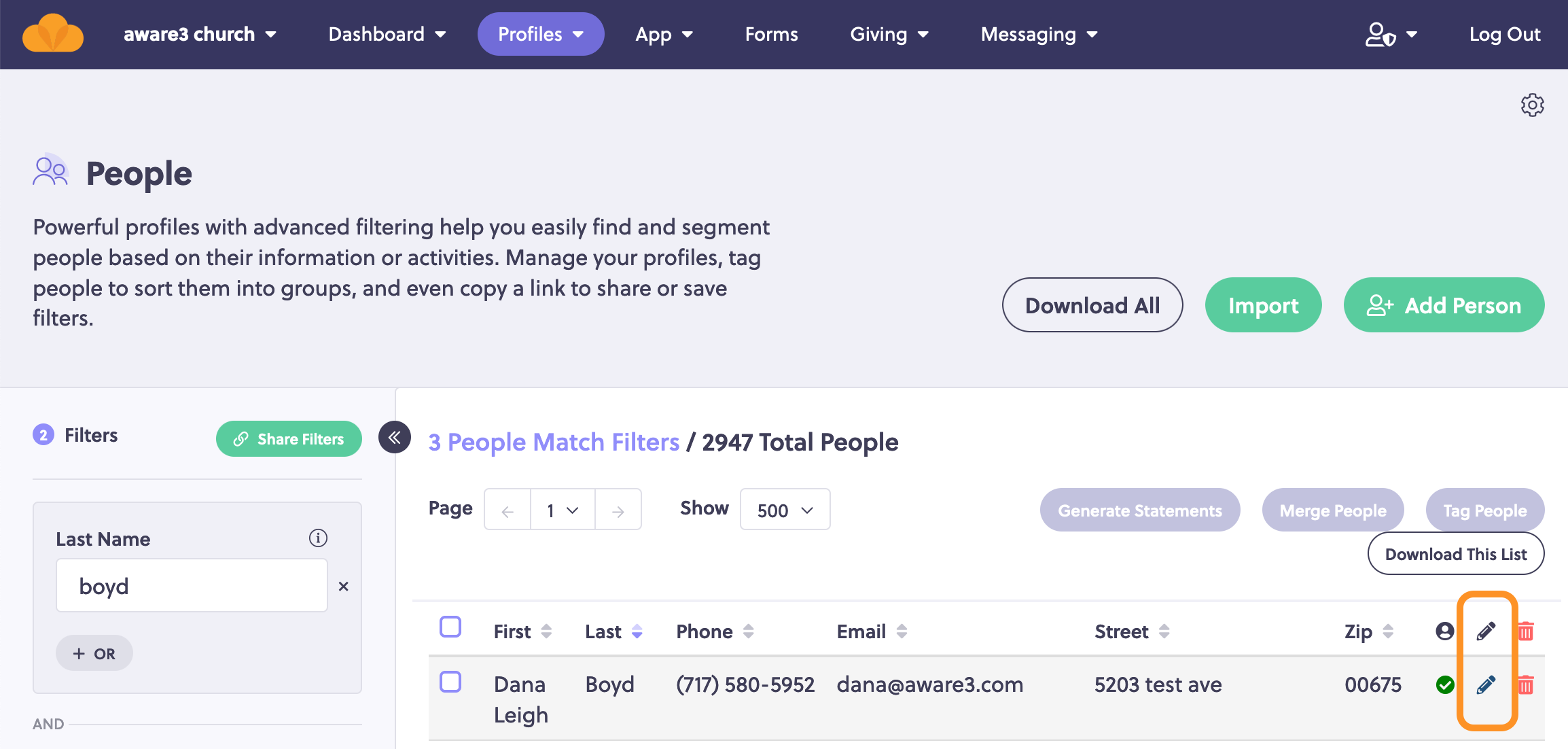 People Overview
Let's break down the People page by using Lisa's profile as an example.
Dana is a new attendee who recently created a profile in the app. All of the information she filled out in her profile in the app (including first name, last name, email address, and address) appears under the Profile Info tab.

Since Dana verified her profile via text or email, a green checkmark appears beside her name:

The Profile Completion progress circle shows how much of the profile information is complete. Profile Completion is based off of the number of fields that are completed; the percentage is calculated by the number of fields that have a value entered out of the total number of fields.
Standard fields like first name, last name, phone number, email address, and address each count as one field.
If the user is linked to one or more tags, this counts as one field.
Each custom field counts as one field.
Get to Know: Custom Fields
The Get to Know section on the right hand side is where you can enter Custom Fields.
Custom Fields are consistent pieces of information you want to collect on the back end across all users (entered by the admin through the portal). For example, you may decide that you want to keep track of everyone's birthday. These fields are just another way to keep track of information about your members!
To edit and manage the custom fields that will appear under every person's Get to Know section in the admin portal, select Manage Fields from the Get to Know section of the profile, or select Profiles from the top menu and choose Custom Fields.


After selecting Manage Fields from the Get to Know section or choosing Custom Fields under the Profiles menu dropdown, the next step is to create your custom fields.
Next to Add Field, select the Of Type dropdown, and choose your custom field type:
Text.

A fill-in-the-blank text box (e.g., Favorite Sunday Service Time)

Date.

Calendar picker style to select a month/day/year. (e.g., Birthday)

Yes/No.

One question with preselected yes or no response. (e.g., Has Kids - Yes or No)

After selecting the field type, enter the Custom Field name and click Add.
To edit or delete a custom field, simply click on the custom field, then edit/save or delete the field.


Check out our short video below in custom fields!

Profile Info Tab
Clicking on the Profile Info tab shows the person's personal information, tags they are part of, and third party attributes. Let's take a closer look at each aspect of the Profile Info tab.
Personal Information
Information such as First Name, Last Name, Phone Number, Email Address, Birthday, and Mailing Address is displayed in this section. This information is pulled directly from the user's profile in the app.
Additional fields that can be added manually on the back end by an admin (and are not required) include:
Prefix
Nickname
Maiden Name
Suffix
Marital Status
Occupation
These fields help you track additional information about the individual, beyond the information they fill out in their in-app profile. (Note: these additional fields are not currently in the app profile.)

Aware3 Tags
Tags that the user has opted into will also be displayed in this section, making it easy to see what communication groups they are part of.

You can link the user to an additional tag by selecting Link Tags. Select the tag(s) you want to add, and click Done.
 
***Pro Tip: Send out a push notification encouraging your members to take a peek at different interests created in-app by clicking on the "My Interests" button within their profile!
Removing a Tag
You can find the article on how to remove a tag from a profile HERE.
RELATIONSHIPS *NEW FEATURE!*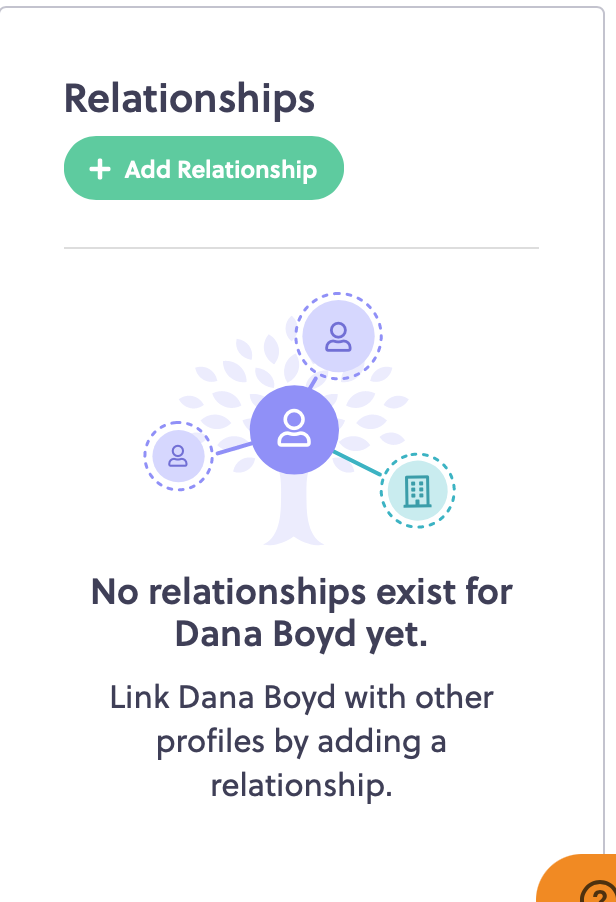 You can find the article on our new Relationship feature HERE.
Third Party Attributes
The final piece under the Profile Info tab is Third Party Attributes. You can apply a Custom ID (can be letters and/or numbers) as another way to identify people within your organization. Some third parties (e.g., Powerchurch) assign users a unique identifying number to track records, and this field provides a way to bring that information into your aware3 system.
If entered, Custom ID information will be included in a Profiles export (to export, go to People > Profiles > Export).


Comments Tab
Under the Comments tab is an internal commenting tracker. Think of this as an ongoing journal on each person. With each timestamped entry, admins have the ability to capture commentary on the goings on, interactions with, and needs of that person.
Comments are sorted by most recently added, and can be seen by all admin users. New comments can be added by clicking New Comment, and can be deleted by clicking the garbage can icon next to the comment.
Unlike Custom Fields, which track a set of consistent information across the board for every user, Comments are unique to each profile.
In our example, a couple of the church small group leaders have met the new attendee, Dana, through various church activities. They're using internal comments to make note of their points of contact with Dana and to make sure that they are helping her feel welcome in her new community.



Activity Tab
The Activity tab shows how a person is engaging with the app, including information like:
How many times they

opened the app on a given day
When they received push messages
When they filled out a form
When they gave*
*If a giving passcode has been set up for your admin account, giving information will not be visible in the profile until the giving passcode has been entered.

Clicking
beside a donation or form will take you directly to the gift transaction page or form response page, giving you a detailed snapshot of how the user is engaging with your app.

View Giving Tab
Clicking View Giving beside a profile's name will take you directly to the gift transaction page, giving you a detailed snapshot of the user's giving patterns.


Profile Permissions Tab
The Profile Permissions tab will be visible if your plan includes Member Directory. Here you'll manage whether the person has access to the Directory, and whether their information is listed in the Directory.
User can access the directory. If yes, gives the

end-user permission to browse other Member Directory listings in the app.

User is listed in the directory. If yes, allows the end-user's profile to be visible for others to view in the Member Directory.
Interested in adding Member Directory to your plan? Contact support@aware3.com for more information!

Profiles provide an insightful and robust way to understand your users. We hope this feature helps you learn more about your community so you can engage with them in more meaningful ways!
Click here to learn how to import people profiles!