Want to quickly identify decreases in a donor's giving? How about get a list of your newest or highest donors? Maybe you'd find it powerful to see how giving has changed per year, per donor, over time...
The Reports feature provides you with templated reports that allow you to quickly access real-time results for frequently requested data! Once a report is created, you can then alter, download or share the reports as you wish.


Getting Started
To access the Reports interface, navigate to the 'Reports' button in the main menu.

Reports Page
Once you have clicked on Reports, you will see the main Reports landing page with a tile for each of the templated reports. From here, click 'Start Report' on the report tile of choice.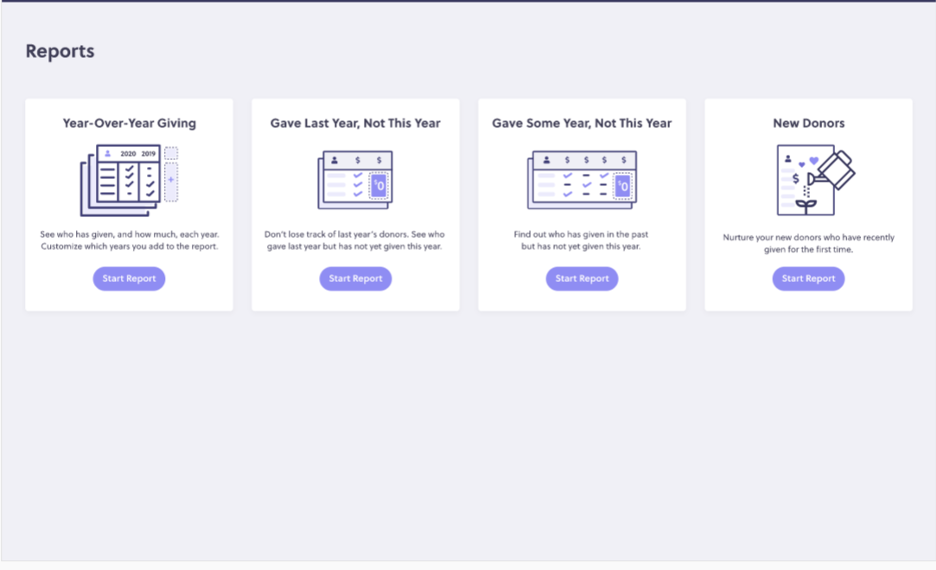 Universal Report Features
There are some common features to highlight in each report.
Navigating to a Profile's giving history or Profile's detail from a Report provides:
Ease of Use: One-click access
Depth of Information: Jump straight to donor's full giving history or into other profile activity via detail page
Time + Effort Saved: No need to go to People and then search for donor

The "Download Results" button allows you to download a CSV export of all data
Admins can work together with others in their organization.
Admins can share the information with others who do not have access to the portal.
Admins can save their data external to the portal.
Admins can import their data to other platforms as needed.

The filename will be formatted as report-title-YYYY-MM-DD_hhmmAM/PM.csv .
Example: "year-over-year-report-2021-06-08_1248PM.csv"
The "Share Report" button allows you to share report configuration parameters
Collaboration: Admins can work together with others in their organization.
Adoption: Admins can encourage one another to log into the portal to engage with the information.
Save time + effort: Admins save time by configuring reports once and then sharing the parameters.
Donor strategy: Admins can see changes over time by running the same report parameters at different points in time.