The Transactions page provides a detailed breakdown of all gifts. To access this page, simply click Giving > Transactions. Once there, you will be able to search/filter transaction data in a myriad of ways, including by both a specific person as well as those who are related to that person. This page also now more clearly allows you to download only the results you are viewing vs. the entire transactions list.





Filtering Transactions
Using the Filter by dropdown menu and search bar on the Transactions Page allows you to search your database for a certain profile. You can use the search bar to search for a profile by name, letter, or whatever you need to narrow down the results. You can use the Filter by menu button to apply a filter or multiple filters to narrow your search.

You can apply more than one filter to narrow down your results. For example, if you want to view transactions before a certain date then, you would apply the following filters:
"Filter by" > "Date" > "Before" or "After" or "On" > Choose date
                          
You can filter by date, transaction amount, and even search within a certain fund's transactions to find whatever information you may be seeking.
Viewing Related Transactions
Once a profile is selected, the Profile name button will appear below the filter menu, along with a 'Show related transactions' toggle.



Note: once any filter is selected, the transaction count above the table also reflects the total that matches the filter(s).
If the toggle is turned on, any related profiles' transactions will appear in the list, and the count will be updated. There is also a 'Relation' column displayed to indicate the type of relationship.

The related name button in the Profile column can be selected to change the display of the transactions page to be from that profile's perspective, along with their related profile's transactions. For example, if clicking on Mark Brooks' name button above, the following results will appear, and the filter now indicates Mark Brooks. The toggle can be turned off to just show Mark's transactions and not those of his relations.

Note: the First/Last columns have been replaced by 'Profile' column in the default Transactions list view. This column will display the full name of specific people. If this column is sorted, it will display alphabetically by the person's last name.
Viewing a Profile's Transactions
From an individual's Profile page, you can quickly and easily view their Giving History by clicking on the View Giving button:

You can also navigate from the Transactions page back to the donor's Profile page by clicking on the profile name, then clicking on the View button:



Removing Filters
Any additional filter(s) chosen will now be displayed as light purple buttons as shown below. Any individual filter can be removed via the 'x', or all filters can be removed with the "Clear Filters' button.

Transactions Export Options
To download the list of transactions currently shown on the page you are viewing, click Download This List. This type of report is the most commonly downloaded, as opposed to the option to download all transactions (see more about this option below).
Note: The default number of records shown per page is 500. You can change the number of records per page in order to show more records on a single page, allowing you to include more transactions on your exported list.

To download all of the transactions in the system, click Download All. Downloading all transactions from the system is less common than downloading a specific, filtered list of transactions, as shown above.

Three transaction export options are available when you download a report from the Transactions page:

Transaction Notification
Administrators also have the ability to set up transaction notification for themselves and other administrators.

Within the Transaction Notification section under Giving > Receipts, administrators can turn on email notifications (for themselves and other admins) if a transaction is made . Below is an example of what the email notification looks like: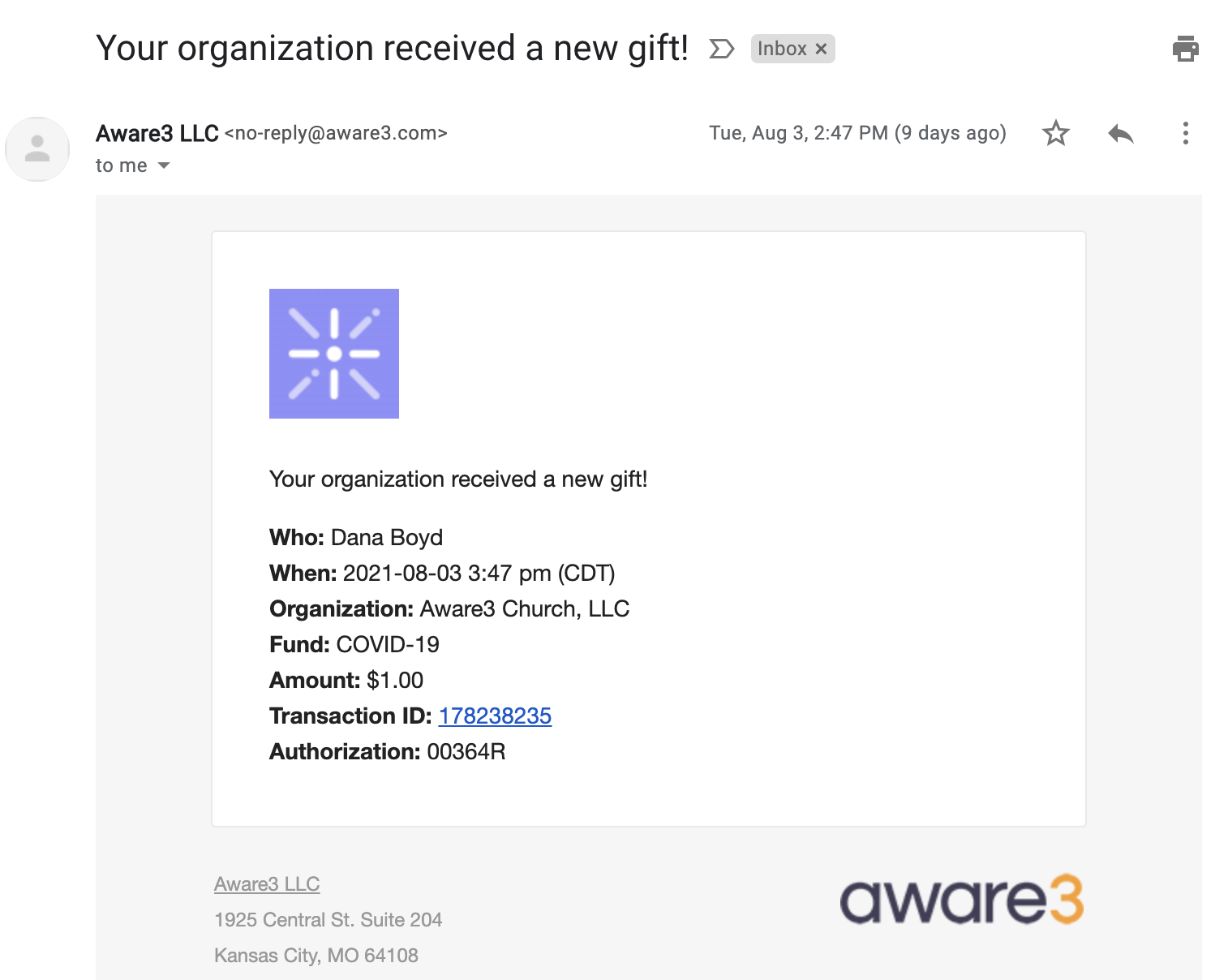 Transaction List Definitions
Below, column headers found on the Transactions page and in the Transactions export are defined. While not all columns appear on the Transactions page itself, you will see all of the columns when you export the full list to Excel.
ID: aware3 gift ID, record of the gift inside of aware3

Initiated: transaction execution date/time

Source: where the gift originated

App (from the app)

Web (from the web giving link)

Text (from text-to-give)

Portal (manual entry of cash or check)

Form (payment through an aware3 form)

Pledge Series: whether the gift came from a pledge

Approved: whether or not this transaction was approved initially

Campaign: name of aware3 appeal, if the gift was part of a appeal

Campus: name of campus if aware3 campus; ID number of campus if non-aware3 campus (i.e. CCB campus)

Fund: fund name if aware3 fund; other fund ID if not aware3 fund (i.e. CCB or PCO)

User ID: person's system ID, whether aware3 or other system (i.e. CCB or PCO)

Gift ID: CCB gift ID; will be blank if not running CCB

Person Custom ID: optional custom ID field from People > Profiles

First Name, Last Name, Email, Street, City, State, Postal Code, & Country: donor's personal information entered during the gift process

Amount: gift amount; includes transaction fees if donor has covered them

Transaction ID: processing ID for processor

Transaction Type: Credit or ACH

Batch ID: aware3-assigned batch ID

Settlement Date: date that funds are submitted for deposit to the bank

Frequency: if gift is recurring, how often gift is set to occur


1 DAY - daily
7 DAY - weekly
1 MONTH - monthly
1 YEAR - yearly
4 YEAR - quarterly

Fees Covered: whether transaction fees were covered by the donor

Note: optional note that donor can include when they give
Check out our short video below covering your transaction page within your admin portal!