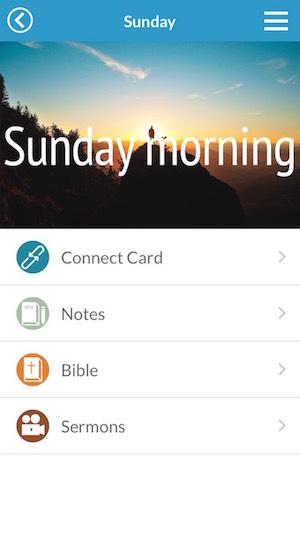 Your mobile app is the hub for your church. Now your app includes specialized Feature Hubs (version 24.1.0+) to serve as a button inside of your app that hosts native app tools in a new format. 
Want church members to follow along with your Sunday morning service? Help them fill out a connection card, skim your bulletin, take notes, and give all under your Sunday Morning button.
Hosting 2017 Faith Workshops? Let participants sign up, check in, watch videos, and take notes all under your specialized 2017 Faith Workshop Feature.
Examples For Inspiration
Sunday Mornings.

Have one button church members can go during Sunday morning service.

Connection Card

Sermon Notes

Bible

Sermons
Campus-Centric.

As a multi-campus church, help to separate relevant content for attendees by having content separate at the campus level. 

Location Info

Sermons

Social Media

Calendar

Register
Events.

A dedicated button for upcoming events can help ease communication through having next steps all in one place.

Check In

Sign Up

Interactive Notes

Video

Text Us
Campaigns/Needs. 

Draw attention to funds you are looking to raise for your campus needs.
Small Groups.

Create a hub for your ministries; keeping everyone informed on what's happening, how to get involved, and ongoing communication.




About Us Video

Find a Group

Small Group Discussion Guide

Campaign

Chat
You name it...the possibilities are endless!